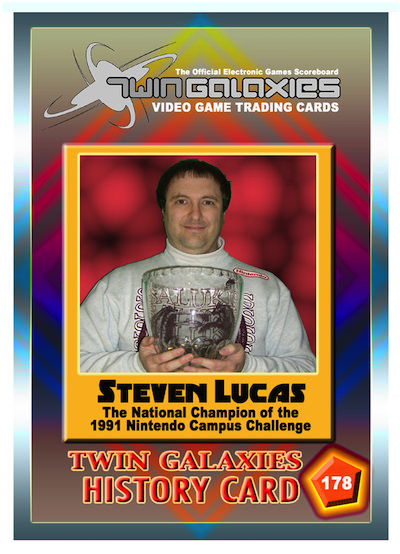 Our next Trading Card Spotlight features Steven Lucas, who is displayed on card number 178, from the Superstars of 2011 Collection. Steven is the 1991 Nintendo Campus Challenge National Champion, in which players contested over Super Mario Bros. 3, Pin-bot and Dr. Mario on a time limited cartridge. Steven has a passion for gaming and always can be seen attending various conferences and events in the gaming industry. He has also competed in other tournaments such as the Sega Genesis College Tournament.
If you can design your own game, what would it be about and who would be the main character?
Well I did make a game using the Shoot Em Up Construction Set where a kid who had his Nintendo taken away by his parents and given away to unsavory characters fights to recover it. "Battle for Nintendo Power".