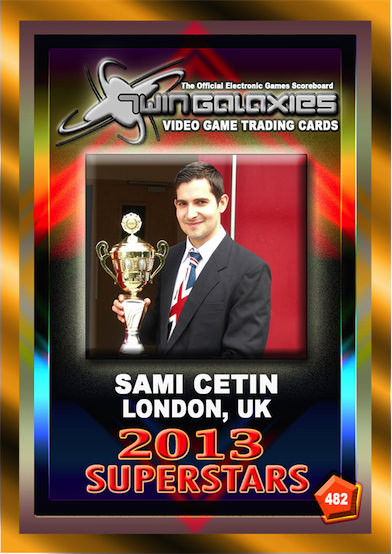 Happy New Year ! Welcome to 2018.
Our next Trading Card Spotlight features Sami Cetin (UK) who currently is displayed on card number 482, from the Superstars of 2013 Collection. Sami is one of the World Record Holders at Super Mario Kart SNES. In 2012 he won the World Title that was held in France. He also manages the Super Mario Kart Time Trial World Rankings since 1998 at www.mariokartplayers.com/smk/ . A collector of Nintendo games, he has over 200 boxed games among various Nintendo consoles in his collection. Some of his Guinness World Records include Super Mario Kart Mario Circuit 1 PAL version – 57.90 seconds & NTSC Version - 55.97 seconds. Sami has been training his niece for many years to be a Super Mario Kart Champion herself and is also among the fastest players of the World.

When did you first meet Walter day and where was it at?
I first got to know Walter in late 1999 / early 2000 when him and the Twin galaxies team found our Super Mario Kart community and the partner site for Mario Kart 64 and wished to link up from there to help provide additional content for any upcoming books / projects. Then I had the opportunity to meet Walter Day in person in August 2005 at Fairfield Halls, Croydon, South London, UK (near where I live). It was a retro gaming event where several of the Twin Galaxies crew were there, including Billy Mitchell, Doris Self. I also had a very nice chat with Perry Rodgers who was due to have a Galaxian Showdown then with a British Gamer, Gary Whelan. However, Gary was apparently unwell at the time and couldn't attend the event. I have been in touch with Walter since then and really hope to meet him again.