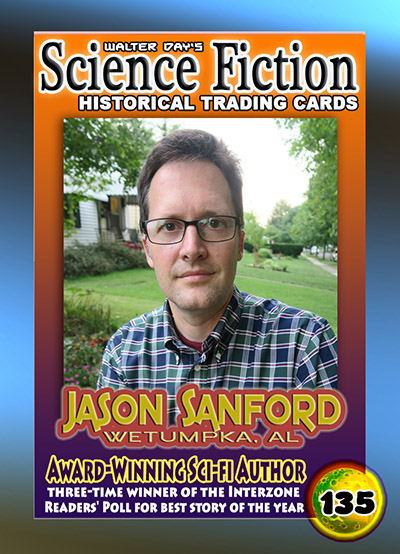 Our next Trading Card Spotlight features Jason Sanford, who is displayed on card number 135 from the Science Fiction Collection. As a Science Fiction writer, Jason is a two-time finalist for the Nebula Award and has received a Minnesota States Art Board Fellowship. Jason has previously worked as an archaeologist and is a former Peace Corps Volunteer. A collection of his short stories were published in 2011. Jason co-found the literary journey storySouth, where he ran the Million Writers Award for best online fiction. He also writes a column for Czech Science Fiction Magazine.
How has writing today changed from when you were younger? What do you like or dislike about the changes?
I think the writing world has opened up massively since I was younger. Now there are large numbers of ways for a writer to reach their audience, from traditional publishing to self-publishing to apps and podcasts and much more. I think that has helped opened writing to many new audiences and participants and is a great thing.