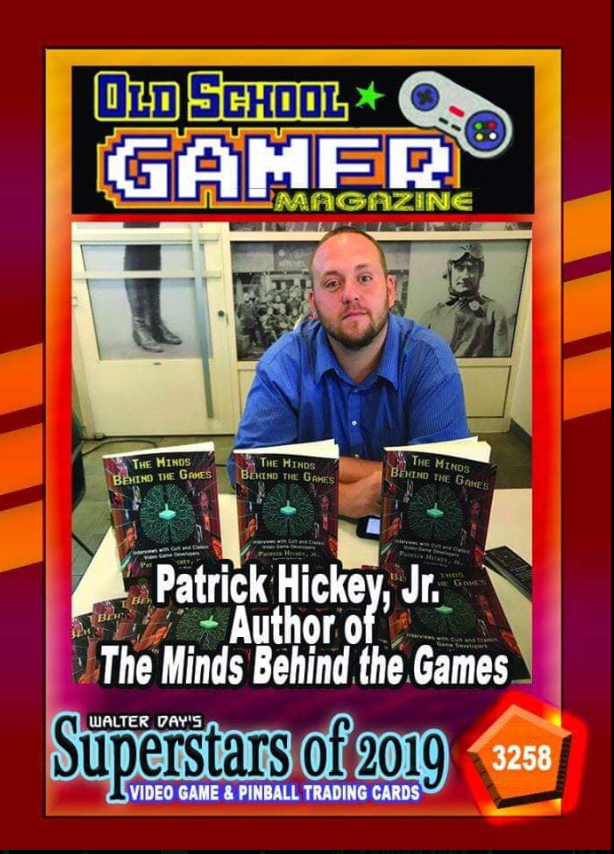 Our next Trading Card Spotlight features Patrick Hickey, Jr. who is displayed on card number 3258, from the Superstars of 2019 Collection. Patrick Hickey, Jr., is the founder and editor-in-chief of ReviewFix.com and a lecturer of English and journalism at Kingsborough Community College, in Brooklyn, New York. Over the past decade, his video game coverage has been featured in national ad campaigns by top publishers the likes of Nintendo, Deep Silver, Disney and EA Sports. His book, "
The Minds Behind the Games: Interviews with Cult and Classic Game Developers
," from McFarland and Company, has already earned praise from Forbes, Huffington Post, The New York Daily News and MSG Networks. Patrick is the voice of the main character and Story Editor of Shotgun with Glitters Survival Horror game, The Padre, currently on PlayStation 4, Xbox One and Nintendo Switch and the writer of the upcoming game,
KROOM
. He is also a former editor at NBC and National Video Games Writer at the late Examiner.com.
When did you write your book and what motivated you to do so?
I began the initial The Minds Behind the Games book in October of 2016. My wife was a few months pregnant and I wanted to do something different in terms of professionally. Something grand. Something bucket list-like. I had written for newspapers, sites, and magazines for over a decade and had never thought of a book. As I sat in my manacle with over 3,000 games, the decision essentially made itself. I decided to interview as many developers as I could and start to build a series of behind the scenes narratives of as many cult, classic and indie games as I could. Three years later and I'm working on book four, The Minds Behind Shooter Games. The second book, The Minds Behind Adventure Games, is set for a January 2020 release, while the third book, The Minds Behind Sports Games should be available in Spring/Summer 2020.