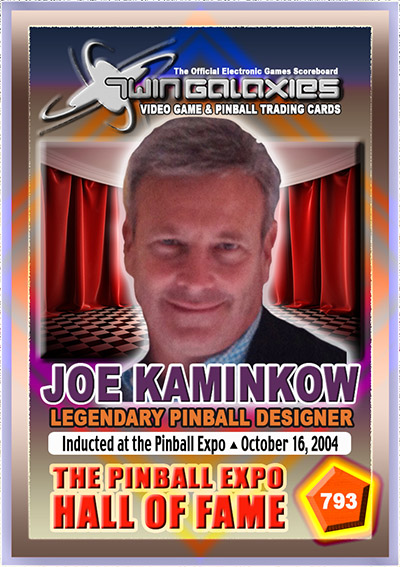 Our next Trading Card Spotlight features Joe Kaminkow who is displayed on card number 273, from the Superstars of 2012 Collection. He is also featured on trading card number 793. Joe has had an amazing career in the pinball industry. He has worked with such companies as Data East, Sega and Stern pinball. Some of the most popular games have been worked on by Joe. Among some of the memorable games are Apollo 13, Jurassic Park, Batman, and The Simpsons. Joe has been inducted into the Pinball Hall Fame among being CIO of Aristocrat gaming after a career at IGT as SR. VP of Design Joe is also a member of the Gaming Hall of Fame and the first Inductee into the Slot Machine Hall of Fame.
What was the best era for pinball gaming in your opinion?
I think we are all partial to an era that reflects our personal likes – My Era is from Space Shuttle through South Park – Both games I had a hand in and I'll extend a PS to Batman 66 and the Beatles. It was a time of innovation Stereo, Solid state flippers, auto ball plungers and Dot Matrix displays – All Pioneered by our company.