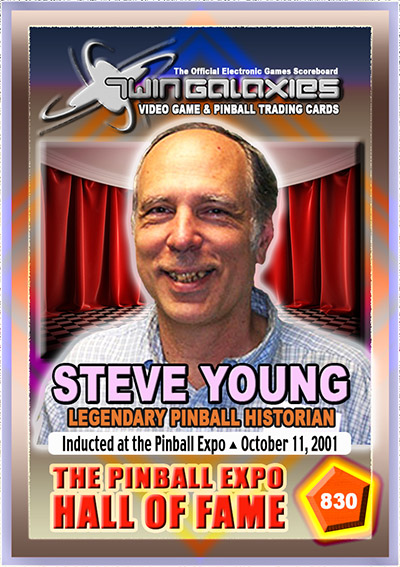 Our next Trading Card Spotlight features Steve Young who currently is displayed on card number 830, from the Superstars of 2014 Collection. Steve is a mastermind of the insides and outsides of pinball machines. Not only a professional of the new pinball machines, but also of the older classic pinball carts as well. In 1982, Steve was involved with the Pinball Collector's Quarterly magazine, devoted to pinball and collecting, with over 200 pinball machines at that time in his collection. Steve manages the online pinball site "Pinball Resource" which is a full licensed resource of Gottlieb but can help find any parts for all manufactures. Steve was inducted into the Pinball Expo Hall of Fame in 2001.
In your opinion, are there enough or too little Pinball Expos and conferences held each year?
In 2020 with everything that has or will be canceled there are going to be entirely too few, but in a normal year, I think the number of pinball expos and conventions has been about right. It can feel like too much when several are around the same time of the year, but I feel like the overall number is good. I'd rather error on the side of having too few successful conventions then having too many and burning people out.