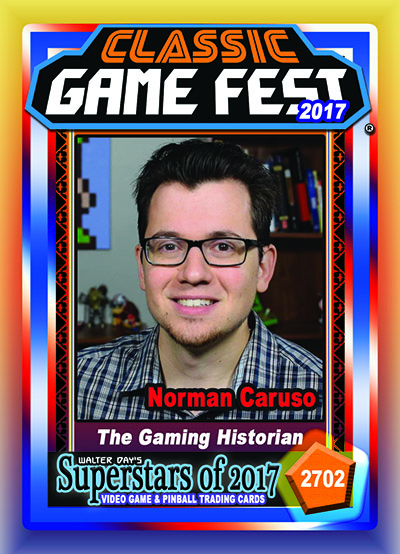 Our next Trading Card Spotlight features Norman Caruso, who is displayed on card number 2702, from the Superstars of 2017 Collection. Norman is the creator of "Gaming Historian", A documentary series on YouTube. His goal is to explore the history of video game via his YouTube Channel. The show premiered in 2008, as he was a big historian buff as well as a video game fanatic. He put the two together to come up with eh Gaming Historian show. You can access his YouTube Channel as well as his website at the bottom of the article.

What does it take to run a successful YouTube show?
Running a successful YouTube show requires dedication and a passion. A lot of times, people make a video hoping to get a lot of views and attention. That's great and all, but if you are miserable making the video, it won't last! For the first 7 years of Gaming Historian, I worked on the show after coming home from a full-time job. It was tiring and stressful, but I loved doing it. Now I make the videos full-time and I couldn't be happier.