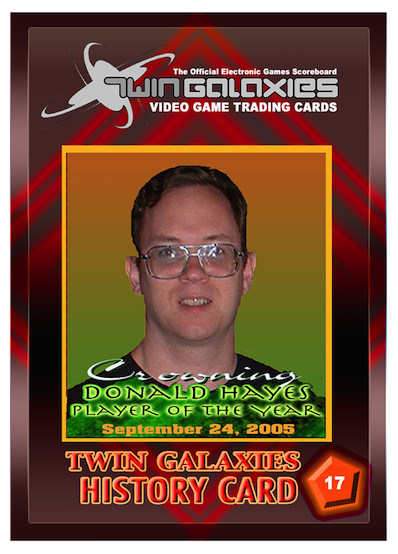 Our next Trading Card Spotlight features Donald Hayes who is displayed on card number 17, from the Superstars of 2011 Collection. Donald is a highly recognized retro game player who has held and holds many world records on classic games. Some of his games he currently holds records on are Centipede, Dig Dug and Joust. In 2005, Donald was named player of the year by Twin Galaxies International Scoreboard. He has also been named player of the year numerous times at the arcade "Funspot" in New Hampshire. Most recently, Donald participated in the Battle of the Arcades event and finished first overall individually and his team finished second out of the five arcades that were involved.
What are your opinions about today's generation of video games? How do you compare them to older, classic games?
I've really not played much of recent video games and prefer to stick with the older classic games. The graphics today are obviously better, but it seems like a lot of modern games are so similar to each other in terms of game play. There seemed to be a lot more variety in the 80's when new games were coming out.