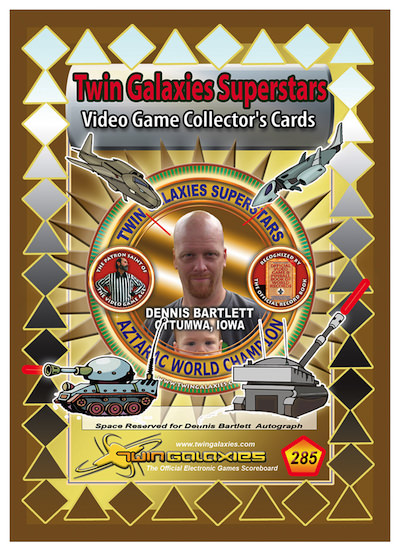 Our next Trading Card Spotlight features Dennis Bartlett, who is displayed on card number 285, from the Superstars of 2012 Collection. Dennis was fortunate enough to have grown up Ottumwa, Iowa where the Twin Galaxies arcade was first opened. He was in attendance when the famous Time Life Photo shoot was taken in 1983. In 1984, Dennis set a record on the arcade Aztarac with a score of 142,390 at 15 years old. The world record for that game still stands. Dennis also played such arcade games as Super Pac-Man and Track and Field. You can see Dennis at various events in Ottumwa, Iowa or gaming events in his area.
What is your favorite Arcade Game of all time?
Track & Field it's a game I still get to play today whether at the Arcade or Home, Aztarac is a really close 2nd, it is considered a Rare Game now and I haven't played it since I was 15.