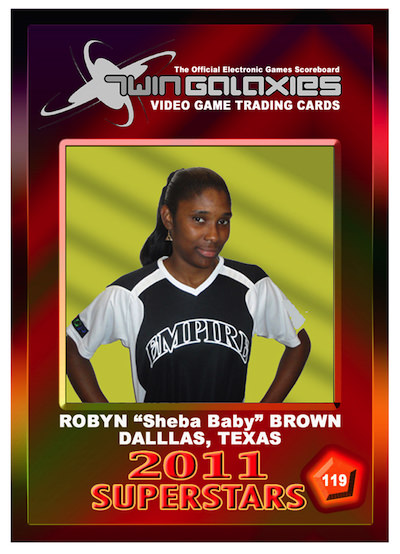 Please enjoy this interview that was done a little over two years ago with this Esports competitor and champion, Robyn Swanson. Robyn has many world records on various games and is always competing in some sort of fashion. Thank you for reading this article completed on April 7th, 2017.
Our next Trading Card Spotlight features Robyn Swanson, who is displayed on card number 119 from the Superstars of 2011 Collection. Robyn is also displayed on card number 920. Robyn is one of the most competitive women gamers today. Robyn is currently a professional gamer and content creator for the Esports team Empire Arcadia. In 2011 Robyn became a member of the Supercon 2k Series and helps host video game events and tournaments. Robyn has many records on the Twin Galaxies website for games such as Just Dance and Dance Central.
Do you remember your first video game / arcade you played and what do you remember about it?

The very first video game that I remember playing was Mario Bro/Duck Hunt on the original NES, staying up late during the summertime with my mom going from castle to castle, discovering secrets, and mimicking her movements on the player two controller as she played the game. I was four or five years old when my mother Tracey Brown taught me how to play.