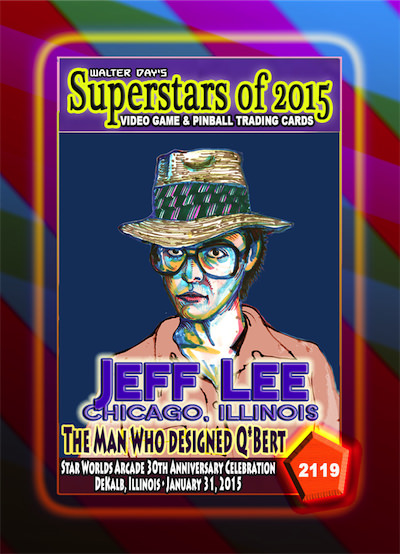 Our next Trading Card Spotlight features Jeff Lee, who is displayed on card number 2119, from the Superstars of 2015 Collection. Jeff is also featured on trading card 2374. Jeff is an extraordinary talented artist in the video game community, most known of course, as designing the character Q*bert. Other arcade games on which he has displayed his artistic creativity are Mad Planets, Krull and Three Stooges. In 2012, Lee illustrated the children's book "The Train to Christmas Town", written by Peggy Ellis. You can see Jeff's artistic talent by going to the following website: https://www.jeffreyplee.com/ .
What was the first game you developed and what was your impression?
The first video game I had a hand in developing (other than just providing the artwork) was "Q*bert". Early on in the development we had a feeling we were on to something. And our hopes were realized by the critical and popular success of the game.