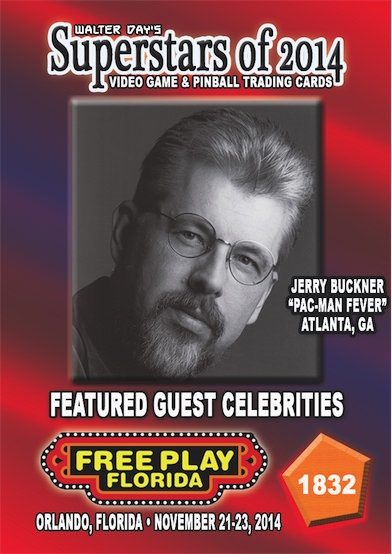 Our next Trading Card Spotlight features Jerry Buckner, who currently is displayed on card number 1345, from the Superstars of 2014 Collection. Jerry is also featured on cards 1832, 1981, 2388. As a musician and producer, Jerry Buckner created many memorable music hits in the 1980's. Nothing prepared him for the smash hit "Pac-Man Fever". The song was and still is etched in the minds of every adult that was playing video games in the 1980's. Created along with his partner Gary Garcia, Pac-Man Fever was featured all over the world on the radio, TV shows, commercials and other forms of advertisement. Along with video gaming music, Jerry has produced and provided music for many TV shows and movie hits. Recently Jerry has produced and performed the title track for the 2012 movie, Wreck-it-Ralph.
Did you know at the time when Pac-Man fever was released, that it would be such a smash hit?
No not at all. We were just hoping it would get played locally and help our jingle business. When we were in L.A. doing some TV shows we were driving through Beverly Hills when our song came on the radio. We looked at each other and laughed when Gary said, "Not bad for a couple of guys from Akron."