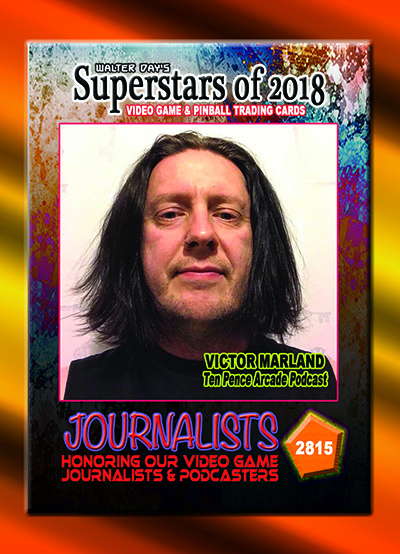 Our next Trading Card Spotlight features Victor Marland, who is displayed on card number 2815, from the Superstars of 2018. Victor began his current podcast, Ten Pence Arcade, in 2014, focusing on arcade games from the 1970's to the 2000's. Each episode focuses on a certain game with videos, sketches, comedy, and reviews. Victor and his cohost Shaun Holley (trading card 2816) compete against each other for each game they feature. They encourage listeners to send in high scores form the game they feature on the podcast each time. All the scores he gets from the gamers are awarded points that they put in a high score table. At the end of each year they award a winner. Victor & Shaun feature gamers all over the U.S. and the United Kingdom. You can visit the podcast at the following link: www.tenpencearcade.co.uk
If you could design your own game, what would it be about and who would be the main character?
I'd do a sequel to Berzerk but different from Frenzy. A souped-up original Berzerk with new Otto's and different robots coming after you and more varied mazes would make a great game. Add in a co-op mode and it would be the perfect arcade game.