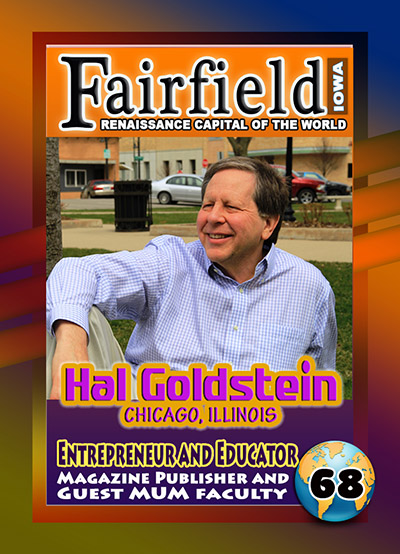 Our next Fairfield Trading Card Spotlight features Hal Goldstein, who is displayed on
card number 68
, from the Fairfield Collection. These cards commemorate Fairfield, Iowa's unique distinction as the "Renaissance Capital of the World." With a Master's Degree in Mind, Heart and Spirit, Hal has worked in many different roles to make people better in life, whether it was in computer science, social work, or teaching Transcendental Meditation. He continues writing about electronics and computing for the magazine he founded. He currently is writing, "The Meditating Entrepreneurs," how T.M. meditators [such as Walter Day] moved to Fairfield for world peace and enlightenment and ended up creating extraordinary businesses.
How has computers/science today changed from when you were younger? What do you like or dislike about the changes?
The underlying passion for creating new technology that serves humanity remains the same. Now there is much more opportunity as exponential development of technologies converge and the human race is so connected. Anyone persistent, passionate with a great idea can raise money and connect with other who have the skills to make the idea a reality.