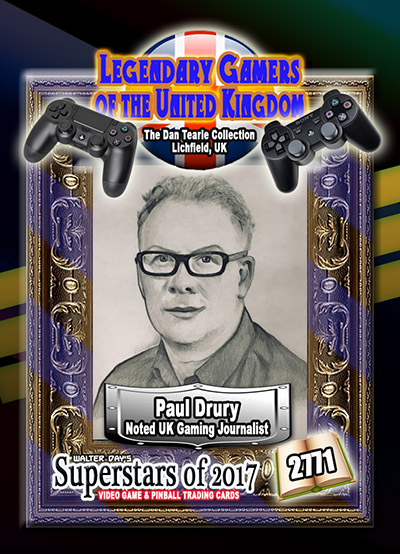 Our next Trading Card Spotlight features Paul Drury, who is displayed on card number 2771, from the Superstars of 2017. Paul has been a writer for Retro Gamer (UK) since 2004. He has interviewed over 150 programmers, designers and artists of games such as Nolan Bushnell, Eugene Jarvis, Warren Davis and Ralph Baer. He also reviews games for his local paper, The Nottingham Post. Paul has bridged the gap between the USA and Europe for Video Game culture. Using his knowledge and talent Paul has paved the way for current writers and enthusiasts across the UK and America.
How early in your life did you know you would be a writer?
Writing is just a lovely sideline for me – I trained to be a teacher after leaving university and have always worked with children and adults with Special Educational Needs and Disabilities, teaching in various special schools and colleges and running residential homes for disabled adults. I'm now a Senior Lecturer in Special Educational Needs and Inclusion at Nottingham Trent University. Since 2002, I've been writing about videogames both old and new, first in the pages of my local paper the Nottingham Post and then in 2004 I started writing every month for Retro Gamer magazine… and still do both to this day.