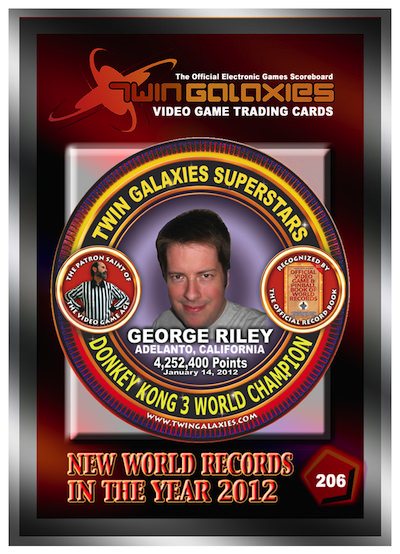 Our next Trading Card Spotlight features George Riley, who is displayed on card number 206, from the Superstars of 2012 Collection. He is also featured on card number 369. George is a widely know Donkey Kong 3 Champion. His scores on M.A.M.E. and the arcade are number one on the Twin Galaxies scoreboard. George is a big collector of Atari 2600 games. George also holds some records on Galaxian and Donkey Kong Jr. You can always see George and subscribe on his YouTube Channel. When not gaming George makes his living as substitute teacher.
How does video game music influence games past and present?
Video game music adds flavor to a video game. It can also add a couple of notches to a video game. The music to Tony Hawk's Pro Skater series made the video game just as much as the graphics, and the gameplay. As far as the Golden Age games it was important too. Donkey Kong that came out in 1981 has a lot more music than most people realize, and it really does add to the experience. Even Space Invaders with that da da da noise is something that's an iconic memory.