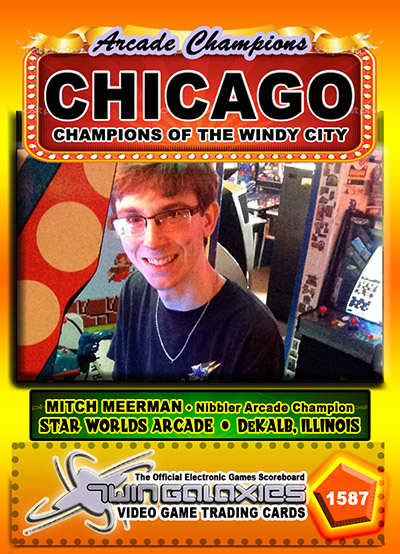 This artcile was published on February 17th, 2017. We talk wth Mitch Meerman of Chicago about his gaming experineces and favortie games. Mitch is a huge collector of the Walter Day Trading Cards and is honored to be on one himself.
Our next Trading Card Spotlight features Mitch Meerman, who is displayed on card number 1587 from the Superstars of 2014 Collection. An avid arcade player at Star Worlds Arcade in DeKalb, IL, Mitch is a true contender at the arcade games such as Avalanche and Nibbler. He also competed on the portable stage with the Nintendo DS and Gameboy Color. Another favorite game Mitch has been played in the past is Pokémon. Mitch is a big collector of the Walter Day collection trading cards and can be seen at events getting autographs for his collection. In 2011, Mitchell held a fundraiser for the International Video Game Hall of Fame by streaming some of his portable games online.
Are you still involved with gaming today, and what role do you play?

I'm currently focused on Super Smash Bros. for the Nintendo 64. In addition to being the #3 ranked player in Wisconsin, I also essentially run the scene there and communicate with all of the other community leaders throughout North America. I also am a tournament organizer for a number of events, most notably for the Smash'N'Splash tournament series. I also intend to return to arcade gaming at some point, as well as become a speedrunner. In any case, I don't intend on quitting video gaming any time soon.