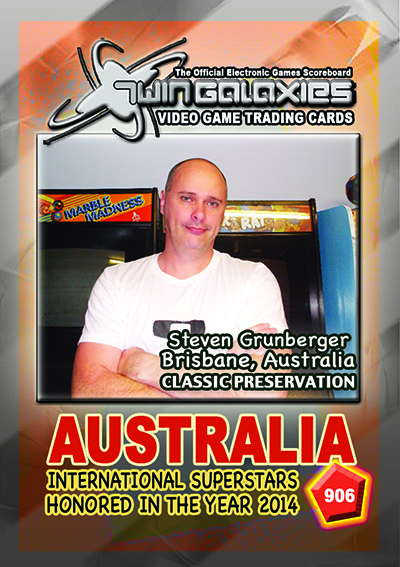 Happy New Year !
Our next Trading Card Spotlight features Steve Grunberger who is displayed on card number 906, from the Superstars of 2014 Collection. Steve, who lives in Australia, is a passionate gamer who grew up in the early 80s and lived the arcade boom as well as the fall. His real love came when he found a game called Dragon's Lair. This game changed his whole life. He has one of the largest collectors in the world of Dragon's Lair items. He is also a collector of arcade games and has 15 machines currently in his home. Steve co-owns Arcade Fever International Magazine which is a free online magazine for gamers. He also is involved in MAME events online and competes regularly.

Who is your favorite arcade game character and what makes that character special?

Dexter from Space Ace (Also Borf), Dirk from Dragon's Lair. I just connected with them. Space Ace is the reason I believe I now work in IT. Just that 'future' aspect from the game. Oh, Discs of Tron was a favorite too. So, Tron.