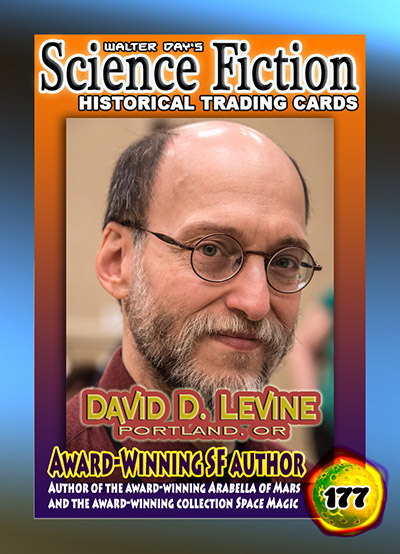 Our next Science Fiction Trading Card Spotlight features David Levine, who is displayed on card number 177 from the Science Fiction Collection. David is a multi-winning author with over 60 science fiction stories to his name. Numerous awards such as the 2006 Hugo Award for best short story and the 2017 Andre Norton award for his book Arabella of Mars. He is also a member of Book View Café, a writer-owned publishing cooperative. He is working on his third novel which will be coming out soon. You can find more information on David at his website, www.daviddlevine.com.
How early in your life did you know you would be a writer?
I started writing science fiction at a very young age. I wrote a whole SF novel in fourth grade. But I stopped writing fiction after I graduated from college and didn't start again until I was 37. I think it was at age 40 or so that I seriously started to identify myself as "an SF writer."