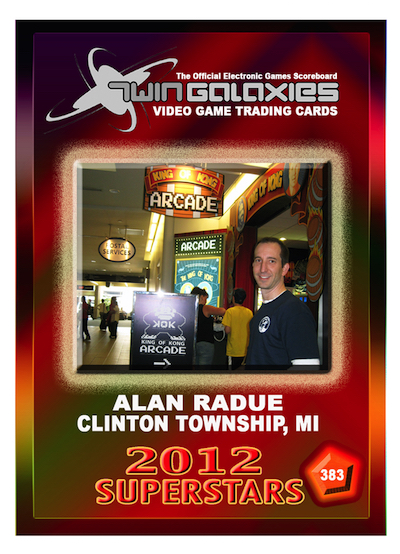 Our next Trading Card Spotlight features Alan Radue, who is displayed on card number 383, from the Superstars of 2012. He is also featured on card 2210 from the Superstars of 2015. Alan is the current world record holder on the arcade games Sea Wolf & Sprint 2. Alan, who is a mechanical engineer in the automotive industry, created a home arcade in his hometown of Detroit, Michigan. He called it Tranquility Base Arcade which was named after the Apollo 11 moon landing. Opened in 2008, Alan has 25 vintage arcade games from the 'golden era' in his collection and in 2011 won the Home Game Room of the Year Award. One area that stands out to other arcades are his personalized bar stools. Alan designs customized Arcade bar Stools for his arcade as well as others. He has graciously donated personalized bar stools for Richie Knucklez Kong Off tournaments.
Which company makes the best arcade games and why?
I have a soft spot for Atari. They were the only company that 'entered my home' when I was a kid through a pong console, the 2600 game console, the Atari 400 and eventually the Atari 800. Playing a 'Real Atari Arcade Game' at an arcade was always a thrill back then and is still a thrill for me today! That said there are so many wonderful arcade game manufacturers from my youth!