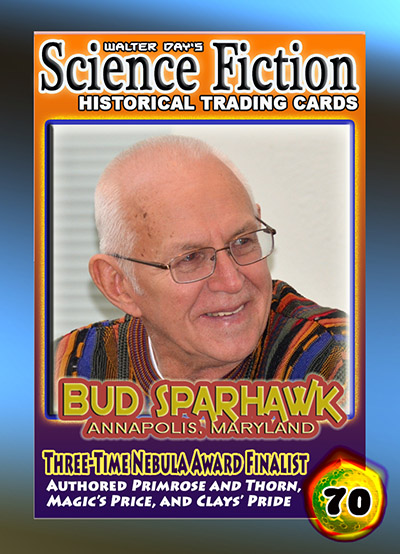 Our next Science Fiction Trading Card Spotlight features Bud Sparhawk, who is displayed on card number 70, from the Walter Day Science Fiction Collection. Bud is an avid short story writer who has several books to his credit. His new book, Distant Seas, as well as his other novels are is available on Amazon. Bud's short stories have appeared in Analog Fact/Fiction and other markets. His work is available in electronic formats. You can read Bud's blogs on the pain of writing at budsparhawk.blogspot.com. A complete bibliography can be found at budsparhawk.com. Bud has won many awards for his work and has been honored amongst his peers in the writing community.
Did you ever think when you were younger you would be on a trading card?
The only trading cards that were around when I was a kid were baseball players and you had to buy a wad of gum to get them, so NO, I never thought I would play baseball so that route seemed closed.