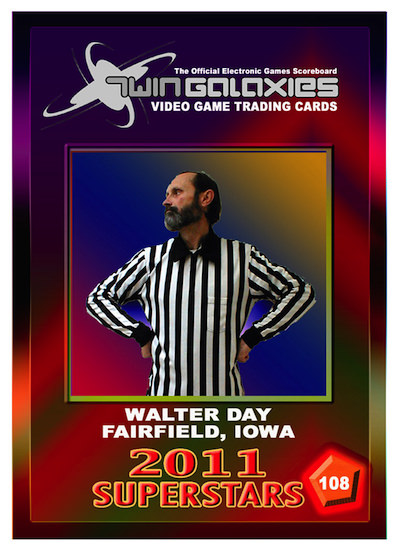 It has been almost 3 years since I have written my first Trading Card Spotlight. I have tried to feature a trading card once a week since I started. With 125 trading card spotlights completed, it was only fitting to feature the man himself, Walter Day as the 3 year anniversary of the Trading Card Spotlight. Walter was kind enough to answer some questions for the article, some which were provided by the gamers themselves.

Our next Trading Card Spotlight features Walter Day who is displayed on card number 95, from the Superstars of 2011 Collection. Walter is also featured on cards 108, 523, 539, 591, 775, 1000, 1021, 1859, 2133, 2149, 2261, 2292, 2321, 2390 and 2462. Walter's visions include starting up the famous known brand of Twin Galaxies back in 1982. He opened his arcade in Ottumwa, Iowa to current and future Hall of Famers when they were just kids. He had his arcade and town declared the Video Game Capital of the world. His gamers were featured in the Time Life Magazine issue taken in Iowa that gamers come to know as the birth place of the classic gamers. Over the years, Walter has traveled all over to referee, issue awards and just give his insight to the gaming communities across the country. His vision of Video Game trading cards and the idea of featuring and documenting gaming history came to realization in 2011 when his first batch of cards were printed and distributed. Almost 8 years later there has been over 1800 cards printed and counting. Walter can be seen at many events and conferences spreading his vision and trading cards, posters, and awards. He is also focusing on his music career and writing of science fiction novels in his spare time.

What is your vision of the future of the Walter Day Trading Cards?

I see the card set as an invaluable resource for future historians to study the video game culture of the 20th & 21st Centuries. The card set tries to identify people and historic events that were important but which might be overlooked by the history books. There are so many stories to tell that I can see the card set encompassing more than 5,000 cards. This applies to the Fairfield and Science Fiction sets, too.