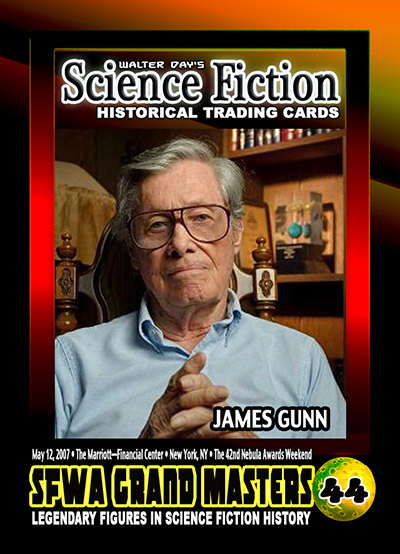 Our next Science Fiction Trading Card Spotlight Features James Gunn who is displayed on card number 44, from the Science Fiction Collection. Jim, who is a science fiction writer with many awards to his name. Awards that include the Pilgrim award in 1976, SFWA Grand Master Award in 2007, along with being inducted into the Science Fiction Hall of Fame in 2015. Jim also received an award for the book "ALTERNATE WORLDS: THE ILLUSTRATED HISTORY OF SCIENCE FICTION", from the 1976 WorldCon before WorldCons began awarding Hugos to non-fiction. An updated edition of ALTERNATE WORLDS is scheduled for publication next spring. His teaching has produced several generations of writers and teachers. Jim is retired as a Professor of English at the University of Kansas, where he earned two degrees in 1947 and 1951. Jim's autobiography, "STAR-BEGOTTEN", was published a couple of months ago. The third volume of his TRANSCENDENTAL trilogy, TRANSFORMATION, was published in June.
What does it take to be a professional writer today?
What it has always taken—a love of language, stories that demand to be told, determination to get it right and then get it published, and a burning desire to keep improving. I used to tell students that the first thing a writer has to learn is who he or she is and then how to put that knowledge, that unique perception of the world into stories that only the author can write. If the writer can do that he or she will be published. If their unique vision of the world happens to appeal to enough readers, they may even be successful.