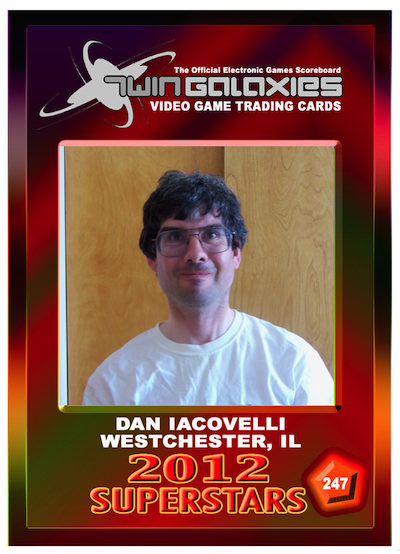 This week we rewind to February 16, 2016 where I interviewed Dan Iacovelli of Westchester, IL. Dan is the creator and co-promotor of the Video Game Summit which is July 29th, 2017 at the Odeum in Villa Park, IL. For more information, visit the website.
Our next Trading Card Spotlight features Dan Iacovelli, who currently is displayed on card number 247, from the Superstars of 2012 Collection. He is also featured on cards 1142 and 1267. Dan has devoted the last 11 years promoting and running the Video Game Summit in the Chicagoland area. Over the years, many vendors, gamers and people of all ages have attended VGS and it grows bigger each year. Dan also has created his own video games such as Laserman '88 and Laserman 2K3 Keystone Kappers hack for the Atari 2600.
What are your opinions about today's generation of video games?How do you compare them to older, classic games?

I prefer the classics to today generation, the classic have the fun factor with no blood or guts most of today games are about fighting or combat, I'm not much into that.