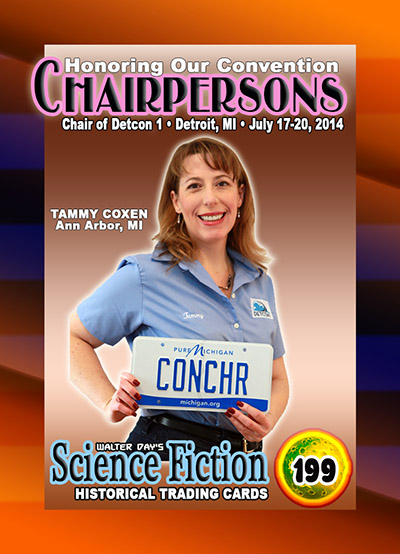 Our next Science Fiction Trading Card Spotlight features Tammy Coxen, who is displayed on card number 199 from the Science Fiction Collection. Tammy is what they call a SMOF (Secret Master of Fandom). She started working on fan-run conventions in 1997, eventually becoming chair of her local convention, ConFusion. After attending her first Worldcon in 2000, she became active in Worldcon fandom and has held a variety of area and division head roles. In 2014 she was the chair of Detcon1, the 11th North American Science Fiction Convention (NASFiC). She continues to work on conventions near and far, large and small.
Are you still involved with science fiction today, and what role do you play?
I am still an active convention runner. I'm currently the Division Head for Member and Staff Services for Dublin 2019, An Irish Worldcon. I'm also active with Worldcon 76 coming up this year in San Jose, California, where I'm helping with the Retro Hugo presentation. On a more local level, I'm head of programming for Capricon, a regional convention in Chicago, IL.