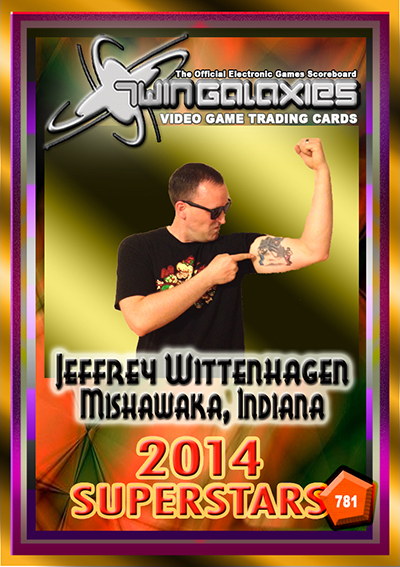 This week we look back at an interview I did with author and Retro Gamer Jeffrey Wittenhagen. Jeffrey has written a handful of retro gaming books with stunning illustration. You can access these books for purchase as well as other items from Jeffrey at hagensalley.com. Along with Todd Friedman, Jeffrey is currently working on the Walter Day Trading Card Book, a detailed look at the first 200 cards in the collection. This interview was done on April 16th, 2016. I hope you enjoy.
Our next Trading Card Spotlight features Jeffrey Wittenhagen, who is displayed on card number 781, from the Superstars of 2014 Collection. Jeffrey can also be seen on card numbers 1285 and 2288. Jeffrey is a published author of many gaming books such as Hidden Treasures: Rare & Unappreciated Gems and a NES collector's guide called "The Complete NES". He is currently working on a project to deliver the Super Nintendo Collector's guide as well as publishing his own NES game called "Jeffrey Wittenhagen's Black Box Challenge". It is a Homebrew NES RPG, developed by Sly Dog Studios, where you collect video games, namely the first release black box NES games.

What is your favorite portable gaming device and why?

I like the Game Boy Advance SP the most. It is essentially a portable SNES, with both 16-bit ports as well as new stylized games, which is one of my favorite eras of gaming. It was also one of the first backlit systems that also were rechargeable. With all the previous systems, the battery drain was insane and the main reason why they aren't my favorite.