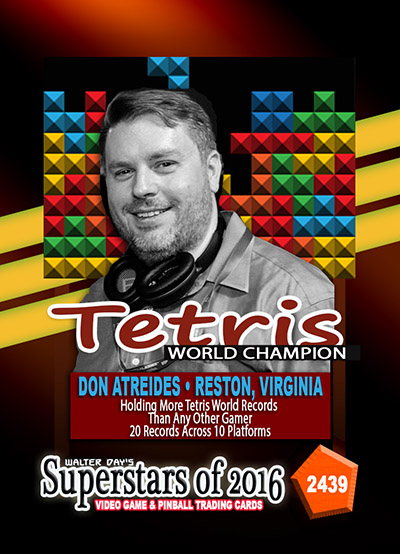 Our next Trading Card Spotlight features Don Atreides, who is displayed on card number 2439, from the Superstars of 2016 Collection. Don is one of the top Tetris Players anywhere. After maxing out NES Tetris at the age of 16, Don took some time off and came back 20 years later to smash as many records as he could. With over 20 Tetris records to his name, Don has shifted to venues of games such as RPG titles. Time is limited for Don these days, but he is gearing up for setting more records in the next few years.

What games today do you play and what are your favorite genres of games?

I decided to go back to school and get my doctorate, so my time right now is really limited. Mostly I limit myself to games where I can play and listen to lectures at the same time. "Diablo 3" is a good one for that. When I do have extra time I'm playing "Shadow of War" and "Civilization VI.