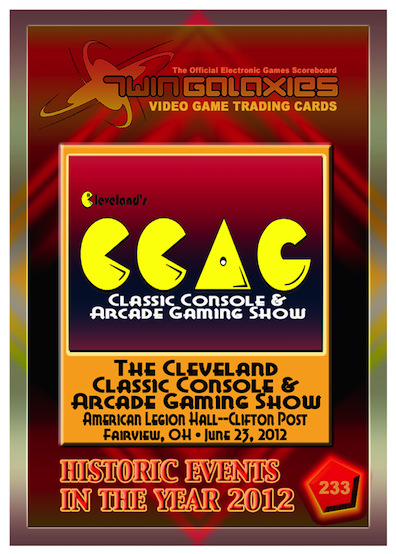 Our next Trading Card Spotlight features Mike Gedeon, who's Cleveland's Classic Console and Arcade Gaming Show (CCAG) is displayed on card number 233, from the Superstars of 2012. Mike and his partner Matt Teske are the organizers of the Cleveland Classic Gaming Show in Ohio. This event displays various gaming displays form both console and arcade gaming, as well as pinball. Tournaments, auctions, prizes and many other surprises can be found at this one-day event. The mission of this event is "To strive to keep the days of early video gaming alive. Paying homage to the games and systems that started and formed the largest and most pervasive form of entertainment media ever!"
Do you remember your first video game / arcade you played and what do you remember about it?
Probably either some black & white arcade games at the local Sears or some 70's pinball machines on a Florida vacation.