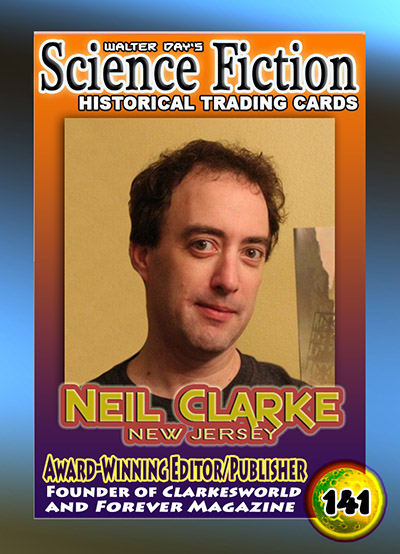 Our next Science Fiction Trading Card Spotlight Features Neil Clarke who is displayed on card number 141, from the Walter Day Science Fiction Collection. An editor of Science Fiction and fantasy, Neil launched his own magazine in 2006 called Clarkesworld Magazine. His team has won three Hugo awards, a World Fantasy award and a British Fantasy Award. Neil has been a Hugo award finalist himself five times. Some of his other projects include Galactic Empires, More Human than Human and the Best Science Fiction of the Year series for Night Shade books.
How has your involvement in the writing profession been important to you?
I've always enjoyed working with talented and creative people and there's no shortage of that in this field. It's also nice to be in a position that allows me to help promote authors and works I enjoy. I'm never bored, and I feel like our work is appreciated. Can't ask for much more than that.