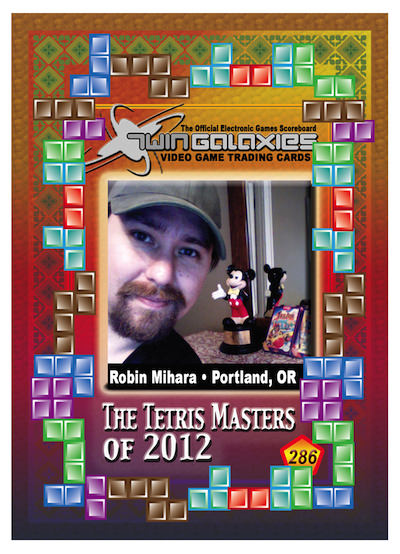 Our next Trading Card Spotlight features Robin Mihara, who currently is displayed on card number 286, from the Superstars of 2012 Collection. Robin is one of the top Tetris players in the world. His preference is the NES version and has been playing since its release in the 1980's. Robin starred in and produced the documentary 'Ecstasy of Order', which about the Classic Tetris World Championship (CTWC) and top competitors in the world. Robin is also known as participating in the 1990 Nintendo World Championships, which he came in third place. Robin traveled over 30 cities in 1991 to compete in the Disney Capcom Play Tour. Traveling and playing NES games against others was a true honor.
When did you first play Tetris and what do you remember about it?
I first played Tetris as a rental shortly after it was released. I thought it was tedious and did not enjoy it at all. I ended up buying it when the Nintendo World Championships (1990) came to Portland and I realized it was a deeper game with a very high skill-cap.