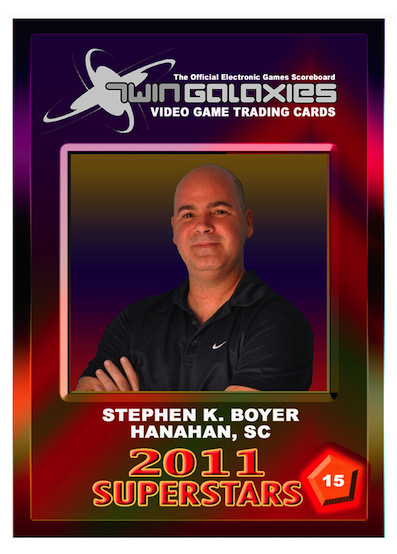 Our next Trading Card Spotlight features Stephen Boyer who is displayed on card number 15, from the Superstars of 2011 Collection. Stephen is also on cards 500, 1413, 1656, 2204, 2264. Stephen is a former Twin Galaxies referee and worked closely with Walter Day with his time there. He has been playing games since the mid 1970's and has had many high scores on Arcade as well as MAME. Some of these games include Donkey Kong and Mario Bros. Stephen was seen at Freeplay Florida in 2014 with many other world record holder gamers. Currently he has been trying for Mario Bros. records in a multi-player setting with gaming partner Steven Kleisath.
Did you ever think when you were younger you would be on a Video Game Trading card?
Heck no! I grew up collecting Garbage Pail Kids cards along with football and some baseball cards. However, I never even thought I would hold any kind of arcade world record score besides being on multiple Twin Galaxies player cards.