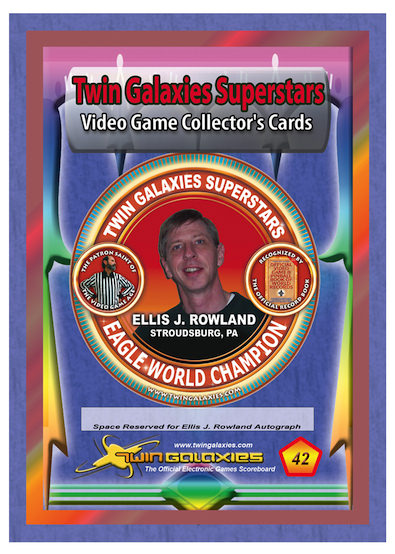 Our next Trading Card Spotlight features Ellis Rowland, who is displayed on card number 42, from the Superstars of 2011 Collection. Ellis is proud of his world record at the arcade game Eagle. His score of 274,970 was posted on the Leaderboard on July16, 2011 and no one has beat it since. Growing up in the Arcade Boom of the 80's, Ellis played a lot of Asteroids. He has posted some others score on arcade games such as Bum N' Jump, Defender, he also added a high score on Mario Kart for the Nintendo Wii. Living in New Jersey, Ellis remains involved in the gaming scene through his son, who he takes to gaming tournaments and roots him on.
Do you believe some Video Games are too violent and lead to violence in America today?
Introducing people to bad ideas is not something we seem to avoid. The media takes a local tragedy and sends it out for 300 million people to see and while most of us are appalled, one out of every 5-10 million people see the news and get inspired to do the same--law of large numbers in society I suppose. Video game violence is usually like cartoon violence--we know it is fake even if the graphics are great. Still one out of every million or so people is dumb enough to try something they saw in a cartoon so who knows.