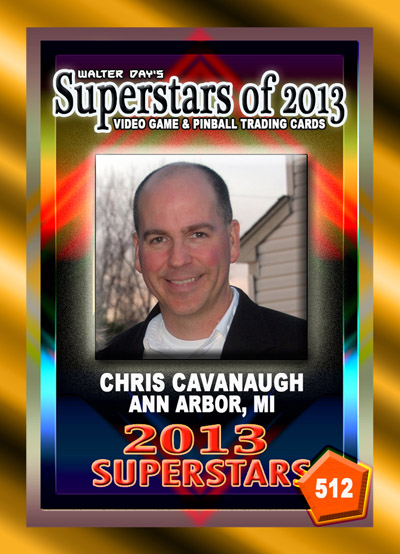 Happy Thanksgiving!
Our next Trading Card Spotlight features Chris Cavanaugh who is displayed on card number 512, from the Superstars of 2013 Collection. Chris is also featured on card number 588. Chris is the Co-founder of Classic Gamer Magazine which was founded in 1999. Chris was also the editor-in-chief of Video Game Collector Magazine and currently is the editor of TiVo Games (formerly Rovi Games, formerly All Game Guide). Other contributions to the gaming community include writing articles for GameSpy and Tips & Tricks magazine.

When did you first meet Walter day and where was it at?

I believe it was CGExpo 2000 or 2001 in Vegas. I had him sign my issue of "Blip" he was featured in. He was happy to do it and I recall being bowled over by how friendly and approachable he was. Funny thing about Walter, I think you could ask him this question and he would probably remember the exact moment, time, place, etc... Not because I'm so memorable, but because he has an amazing memory, which makes him all the more fascinating.