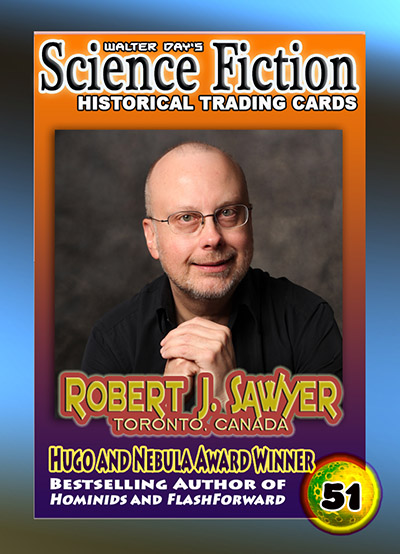 Our next Science Fiction Trading Card Spotlight features Robert J. Sawyer, who is displayed on card number 51 from the Science Fiction Collection. Rob has won the Hugo, Nebula, John W. Campbell Memorial Awards, and Aurora Awards for best novel of the year, and, according to the Locus Index to Science Fiction Awards, has won more awards as an SF/F novelist than anyone else in history. The ABC TV series FlashForward was based on his novel of the same name. In 2014, he was one of the initial nine inductees into the Canadian Science Fiction and Fantasy Hall of Fame, and in 2016 he was made a member of the Order of Canada, the highest civilian honor bestowed by the Canadian government. His 23rd novel, Quantum Night, is just out from Ace.

Who is your favorite celebrity and what makes that person special?

Chase Masterson, who played Leeta the Dabo Girl on Star Trek: Deep Space Nine. She's parlayed her celebrity into being an international leader in the fight against bullying online and off, and she's done amazing work with young people transitioning out of gang life in Los Angeles. She's my hero.