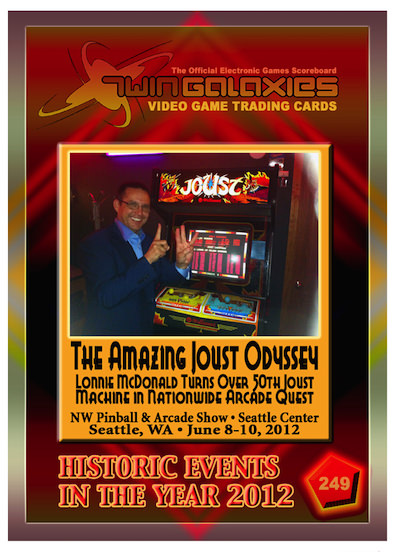 Our next Trading Card Spotlight features Lonnie McDonald who currently is displayed on card number 249, from the Superstars of 2012 Collection. He is also featured on cards 127 (with Steve Sanders), 589, 905, 1442 and 1465. Steve is one greatest Joust players. He was in Ottumwa, IA in 2012 setting a Joust MAME WR and was the 1st person to play in the original Twin location since the mid 1980s. Lonnie is one of only 3 people to break the 1 million point barrier on the Joust Arcade game in Tournament Settings. He is the only person over the age of 50 to marathon a game 50 hours straight. Between 2011 and 2013 Lonnie went on a tour to roll the Joust score on as many arcade machines as he could. On June 10th, 2012, Lonnie rolled the score on his 50th Joust Machine. On May 23rd, 2013, Lonnie rolled his 100th machine. Along with Steve Sanders, Lonnie broke another record by competing in a doubles marathon and playing Joust with Steve for over 15 hours straight. Their score of 40,120,150 is also a doubles record. Lonnie has also promoted vintage gaming for TV, magazine, newspapers and online as well as supported numerous charities to help fellow gamers
Who is your favorite video game character and what makes that character special?

The Knight on an ostrich in Joust. I'm that Knight. The great Python Anghelo (from Joust fame and many Williams's games) designated me a Knight of the Highest Order. An Honor that deeply moved me, and still does as I write this.