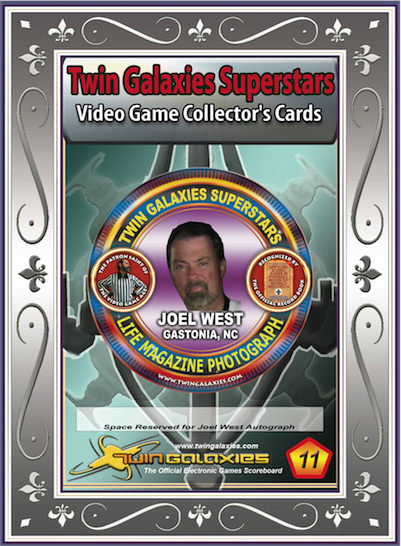 Bezerk Champion, Star of Chasing Ghosts, and a dear friend of mine passed away today. I will miss his kindness and love for the gaming industry. He was a huge help in the Walter Day Trading card project as well as helping sell merchandise for charity and other great causes. Here is my interview with him from May of 2016.
Our next Trading Card Spotlight features Joel West, who is displayed on card number 11, from the Circus Card Collection of 2011. Joel is also featured on cards 1236, 1911, 2103, 2189 and 2197. Joel grew up in the early 1980's when the arcade boom began. He was one of the original members of the famous TIME Life Magazine photo shoot in Ottumwa, IA outside the original Twin Galaxies arcade. The game he is most known for is Berzerk, where he holds a number of world records on both the Fast and Slow versions. In 2016, Joel is looking to break the marathon record on Frenzy (the sequel to Berzerk) with 100 hours of nonstop play on single quarter. You can see Joel in the documentary "Chasing Ghost: Beyond the Arcade" as well as in person at Walter Day events across the country.

Do you learn anything from playing video games?

Oh so much! I learned how to spend money while standing in one spot for hours before internet shopping was invented. I learned there is no place too far to go to attend a competition. I learned all video gamers have superior hand-eye coordination and driving skills. I learned there is a cacophony of peoples from many different walks of life who love video games. While their paths may never cross in other areas of life; when they cross in an arcade, they easily make friends for life. The most important thing I learned is my life would not have been as rich if I had never dropped that first quarter and became a part of the gaming community.