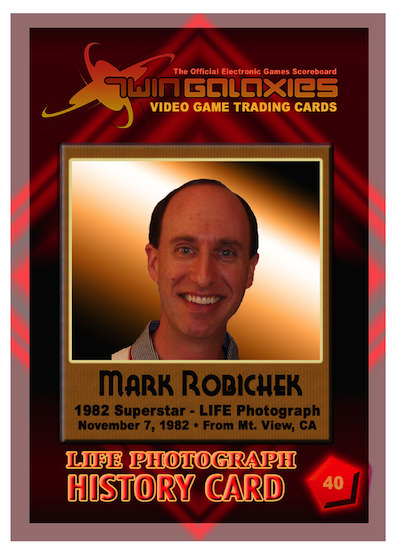 HAPPY NEW YEAR!!!

Our next Trading Card Spotlight features Mark Robichek who is displayed on card number 40, from the Superstars of 2011 Collection. Mark is another original Twin Galaxies alumnus from 1982. He can be seen alongside the greats in the Time Life Magazine photograph taken on November 7, 1982. Mark early on set the bar for world records on such arcade games as Frogger, Tutankham and Berzerk. Today Mark can be seen playing Pengo on MAME or smart phone games such as Words with Friends and What's That Phrase. Currently Mark is a Casino Party Dealer and resides in Sunnyvale, California.

If you can design your own game, what would it be about and who would be the main character?

I would create a puzzle game in which the main character, none other than Walter Day, tries to figure out a way to save the video arcade industry!