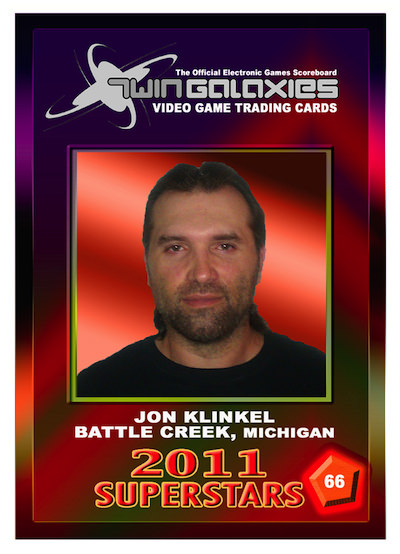 Our next Trading Card Spotlight features Jon Klinkel, who is displayed on card number 66, from the Superstars of 2011 Collection. Jon is also featured on cards 2916 for Galaga Forum and soon-to-be-released 2918 in a Score Wars group picture. Current Administrator of Galaga Forum, Jon is very passionate about Galaga. In 2010 Jon broke many Galaga World Records at that time. Jon is a true Retro Gamer as he has played on most of the systems created since the early 1980's. He also plays PC games as well when he finds time. Jon is currently on the committee with the International Video Game Hall of Fame.
If you can design your own game, what would it be about and who would be the main character?
I've actually come up with several ideas for video games. A very in-depth MMORPG that I wouldn't be able to describe in less than several pages, a persistent world based on the original Bard's Tale, a battle royale game, a game similar to Clash of Clans based on hillbillies - with appropriate units, gear and weaponry, sports simulators - among many other ideas I tend to have.