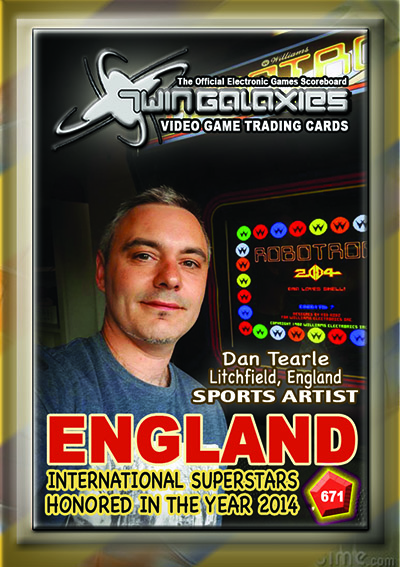 Our next Trading Card Spotlight features Dan Tearle who is displayed on card number 671, from the Superstars of 2014 Collection. Dan is also featured on card 1153, 1326, and 1352. To say Dan is an artist is an understatement. Dan is very talented and has displayed his artwork in many different genres such as sports, Star Wars and of course video games. He has created the artwork for various gaming t-shirts, posters and logos for gaming websites. Dan is also a big competitor playing most of his gameplay on MAME and recreating the memories of the retro games when he was a kid. Dan has also created some very cool Walter Day trading cards for the collection. Some of these cards can be seen at this link, click here.
Are you still involved with drawing, and what role do you play?
Very much involved; along with my sports art, I work on trading cards for several companies such as Topps, especially their Star Wars sets. I do hand drawn one off 'sketch cards' which are inserted into packs as 'hits'. It's very cool to say my work is licensed by Lucasfilm, as the cards have to pass a strict approval process first.