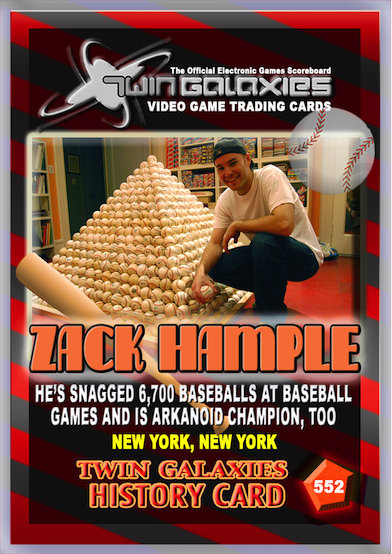 Our next Trading Card Spotlight features Zack Hample who currently is displayed on card number 552, from the Superstars of 2013 Collection. Zack has been the Arkanoid world record holder since the year 2000 and has put up numerous scores on the arcade version. He is also the world record holder on catching baseballs in the stands at the MLB games he has attended. He has collected more than 10,000 balls and has appeared on "The Tonight Show with Jay Leno" for his accomplishment. Zack has used his skills to write three baseball books and has used his collection to raise more than $200,000 for the charity Pitch In For Baseball.
What was the first game you ever purchased?
The first game I ever owned was some primitive Snoopy Tennis game around 1984 on a handheld device that only played that one game. I can't remember the first game that I bought with my own money because when I was young and playing NES and SNES, the few games I had were all gifts, and I never owned any gaming systems after that.