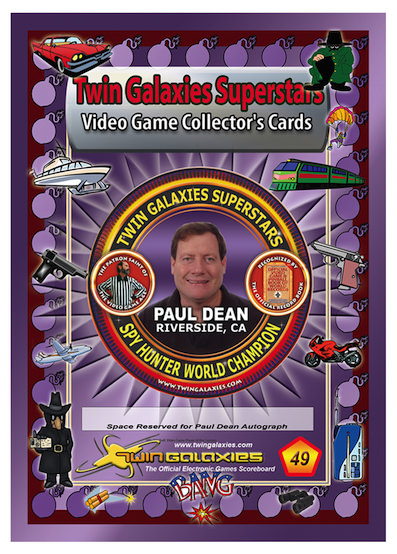 Happy Easter !
Our next Trading Card Spotlight features Paul Dean, who currently is displayed on card number 49, from the Superstars of 2011 Collection. Paul is also featured on card number 2108, from the Superstars of 2015 collection. Paul has had many Video game accomplishments in his career such as a 41 hour marathon of the game "Frenzy" in 2005. In 1985, Paul broke the world record on the Arcade game "Spy Hunter" which still stands today. Paul's score of 9,512,590 is still the only million points or higher game recorded for Spy Hunter. You can see Paul each year at the California Extreme Expo, which he runs various competitions open to the public.

Are you still involved with gaming today, and what role do you play?

Yes, I still compete from time to time as well as run high score contests at California Extreme and at the Arcade Expo. I have been running high score events since 2006 and it has been a lot of fun getting the players back together each year to compete. I have done video game panel discussions and events at the Ottumwa Iowa Big Bang, California Extreme, Banning Arcade Expo, San Diego ComicCon, Portland ComicCon, E for All, E3, The Kong OFF 2 & 3 and the Seattle Northwest Pinball and Arcade Show. I also have a web site named spyhunter007.com which covers a lot of the competitive history of video gamer's and I post to the CAGdc classic gaming forums run by Mark Alpiger. I also follow the new Twin Galaxies site run by Jace Hall and I am a member.