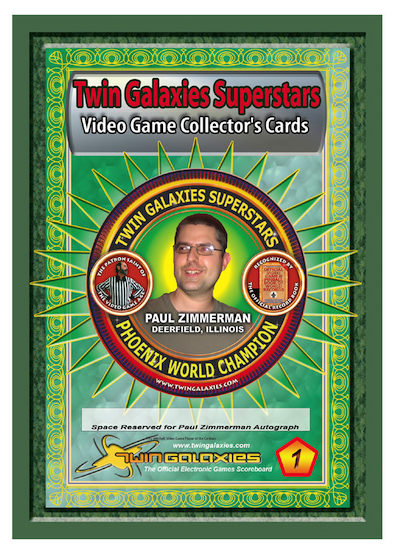 Our next Trading Card Spotlight features Paul Zimmerman, who currently is displayed on card number 1, from the Superstars of 2011 Collection. Paul has many World Records held on the Atari VCS System. Games like Demon Attack, Berzerk and Phoenix to name a few. Paul has been a big contributor each year to the Video Game Summit held in the suburbs of Chicago. He has offered his help in organizing video game tournaments as well as holding world record attempt competitions. You can also see Paul in the documentary Bonus Life Extended Play.
When did you first meet Walter Day and where was it at?

The 2008 Video Game Summit in Lombard, IL. I was on staff and invited Walter to come to the event. He brought along Tim McVey as a surprise (his first public appearance in decades and as a gaming celebrity). I also invited Todd Rogers (his first return to his hometown Chicago after 15-year absence). Also Trickman Terry and Ken Sushi-X from Electronic Gaming Monthly magazine were at the event. The event was amazing!