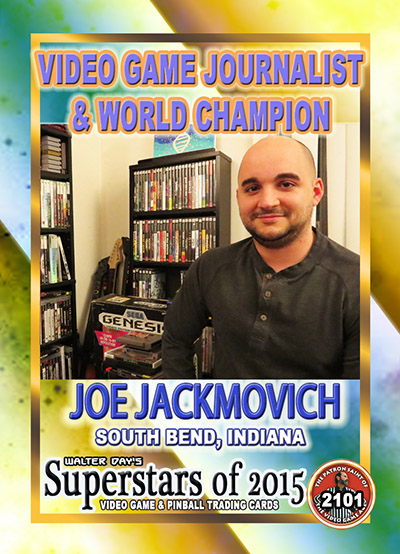 Our next Trading Card Spotlight features Joe Jackmovich, who is displayed on card number 2101, from the Superstars of 2015. Joe is an experienced journalist with his M.A. from Indiana University. Being a video game reporter, Joe has talked to many figures in the video game industry including Final Fantasy composer Nobuo Uematsu. Joe also holds gaming records on such games as Geometry Wars and Computer Space and recently broke the world record on Super Double Dragon for the SNES. Joe's goal is to break the 10 million point score on Gradius for the NES. He is starting medical school at Marian University in the fall of 2016.

Who is your favorite video game character and what makes that character special?
It's completely impossible to pick a single favorite character. Magus from Chrono Trigger probably takes a high place though. It was unbelievable to have a villain join your party in an RPG. He had a convoluted story but a clear objective. And the way the party ruins his plans unintentionally is such a great mark of storytelling.