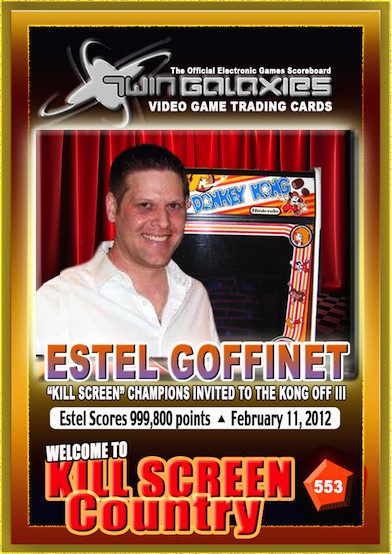 Our next Trading Card Spotlight features Estel Goffinet, who is displayed on
card number 553
, from the Superstars of 2013 Collection. Estel is also featured on cards 1049, 1240 and 2496. Estel is one of a very small group of gamers who has a recorded and approved Donkey Kong kill screen. Estel competed in the Kong-Off III in New Jersey. His highest Donkey Kong scores are 999,800 (Hammers Allowed) and 640,500 (No Hammers Allowed). You can see Estel playing his favorite streamed games on MAME and he will appear at times at Donkey Kong events to show his Donkey Kong skills.
What games today do you play and what are your favorite genres of games?
I mostly play classic arcade games like Donkey Kong, Intrepid, Moon Patrol, etc. I will find time to squeeze in a RPG every now and then.