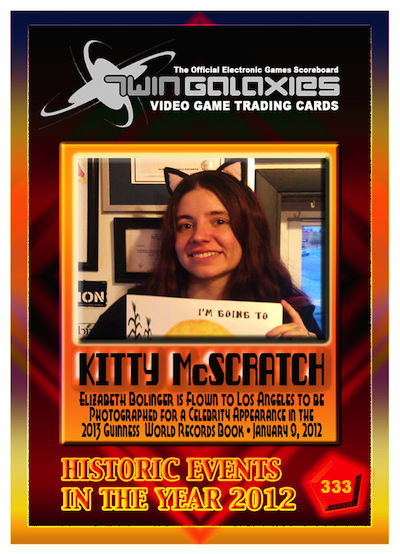 Our next Trading Card Spotlight features Elizabeth Hunter, who is displayed on card number 333, from the Superstars of 2012 Collection. Elizabeth is also on cards 51 and 345. Elizabeth is most well-known by her title of "Kitty McScratch". Her claim to fame is the many records she holds on various "Just Dance" and "Dance Central" games on the Nintendo Wii, XBOX 360 and other platforms which resulted in her being featured and named "Most Prolific Dancing Game High Scorer" in the 2013 Guinness Book of World Records and the 2013 Gamer's Edition. Liz has also been part of such organizations as the Grassroots Gaming Expo and the International Video Game Hall of Fame, both held in Ottumwa, Iowa.

What games today do you play and what are your favorite genres of games?

I play all kinds of stuff from adventure, platforms, RPG, first person shooters, strategy, puzzle, you name it. I tend to play more of puzzle and RPG but it varies based on my mood at the time. I've been playing a lot of Fallout 4, Job Simulator, Pokémon Go, and a few other virtual reality games. I also picked up Day of the Tentacle on Steam which was a game I loved as a kid and am hoping to beat it again.