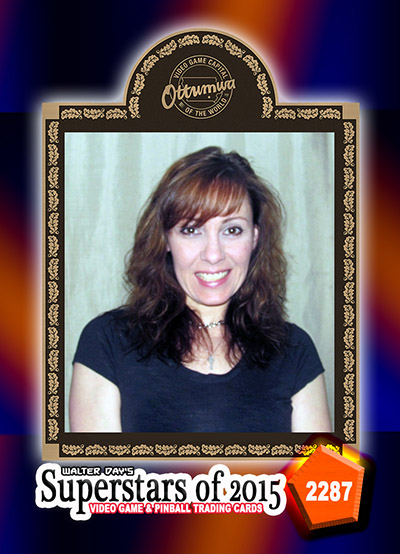 Our next Trading Card Spotlight features Michelle Ireland, who is displayed on card number 446, from the Superstars of 2013. Michelle is also on Cards 1261, 1646 and 2287. The second half of the Team Mayh3m duo, Michelle is a true gamer in every sense of the word. Michelle co-founded the Mayh3m Militia which is a group of gamers who actively stream games to raise money for various worthy causes. Michelle is also a contributor to the Walter Day website as a writer. Michelle took over the reins as the ICON Event Coordinator in 2015 in Fairfield, Iowa. Her dedication made that event fun for all ages and memorable for gamers who attended. She continues to volunteer her time as Event Coordinator for this year's ICON 2016 event in Ottumwa, Iowa which looks to be bigger and better than ever before. https://sway.com/Q6ObrxNESfFbEadB.

Have you ever received any media coverage for your appearance on the Trading Card? If so, where?

I have been interviewed by Twin Galaxies International, and ExtendedPlayArcade.com. I make a brief appearance in the documentary Nintendo Quest, and was featured alongside a few of my friends in the Nintendo Quest:Power Tour Episode 6. My work with WalterDay.com and our annual ICON event in Iowa has also afforded me the pleasure of speaking to the local papers there as well.