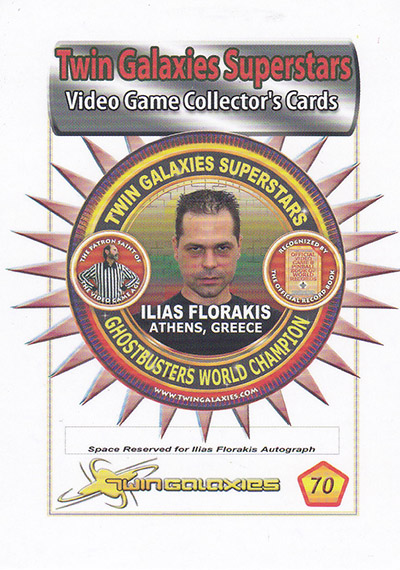 Our next Trading Card Spotlight features Ιlias Florakis who is displayed on card number 70, from the Superstars of 2011 Collection. Ilias lives in Athens, Greece and is an avid game player on multiple game consoles. Ilias is the record holder on many games such as Ghostbusters and Decathlon on the Commodore 64 as well as Point Blank on the Sony PlayStation. He is also an author of two books with strange stories, many theatrical plays and scripts. In 2005 Ilias wrote for a Greek Computer Magazine called "RAM" and supplied game reviews for the magazine. Ilias is also good with his hands as he used to work and repair arcade games in his hometown.

What are your opinions about today's generation of video games? How do you compare them to older, classic games?

A lot of effects and amazing graphics but usually very low gameplay. Most games are a one way path that you just have to move on straight. And there is more violence. Of course there are exceptions, such as my favorite Riven - The sequel of Myst, which is covered with great music. The technology helped the video games to become more impressive and more realistic. Most often without substance though.