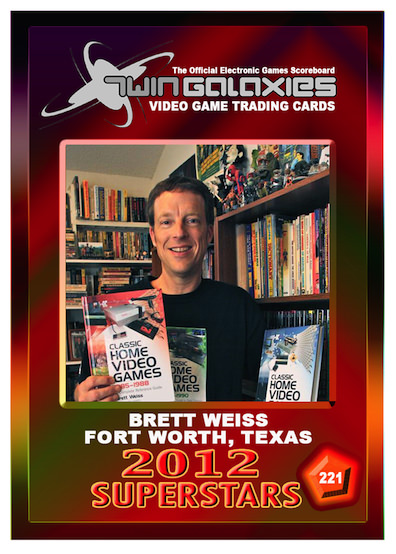 Our next Trading Card Spotlight features Brett Weiss who currently is displayed on card number 221, from the Superstars of 2012 Collection. He is also featured on cards 227, 1193,1207,1320,1393 and 1402. These cards commemorate Brett's books that he has written over the years. Brett is a passionate writer of many books and has contributed to numerous publications, including Game Informer, Video Game Trader and the PinGame Journal, to name a few. His well-known books, Classic Home Video Games can be purchased on amazon and other retail book sites. You can also find out more information about his work at www.brettweisswords.com.
Do you remember your first video game/arcade you played and what do you remember about it?
My brother and I played Pong at my cousin's house in 1975—they had gotten it for Christmas. We were amazed that you could play it on television. Prior to this, I had played Gun Fight, Pong, and a few others in the arcades. When Breakout hit the arcades in 1976, I began liking video games even more than pinball, which I loved.