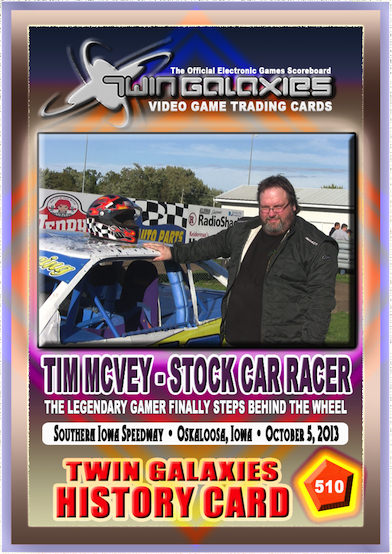 Our next Trading Card Spotlight features Tim McVey who currently is displayed on card number 56, from the Superstars of 2011 Collection. He is also featured on cards
162
,
510
,
612
,
2095
and 2304. Tim is an avid game player starting from the early 1980s in Ottumwa, Iowa. Tim is well known as the first player to score a billion points on a little game known as "Nibbler". On January 28
th
, 1984, Ottumwa, Iowa proclaimed "Tim McVey Day" to honor this record accomplishment. Tim still has the original arcade game in his house today. Tim's wife Tina also has been honored on a Video Game Trading Card, number 230, for her hard work on such events as the Video Game Hall of Fame 2010, Big Bang 2010 and multiple ICON events in Fairfield Iowa. Tim has also been inducted into the International Video Game Hall of Fame Class of 2015. He will be honored in Ottumwa, IA this summer at the Hall of Fame induction ceremony. Tim has a documentary coming out to the public in 2016 on his life and Nibbler experiences throughout his career, called "
Man Vs. Snake
".
Do you learn anything from playing vdeo games?
Absolutely. I think video games teach many things. Problem solving and perseverance are two of the big ones. Sometime you have to look at things differently in order to get past/beat them. And if you quit the first time you fail...you won't play video games too long. Team work is another one, and communication. It's essential to winning many online team based games. League of Legends. DOTA 2. Call of Duty. Clash of Clans, to name just a few.