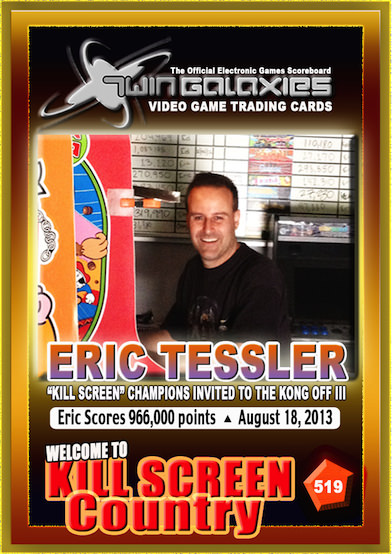 Our next Trading Card Spotlight features Eric Tessler who currently is displayed on
card number 519
, from the Superstars of 2013 Collection. He is also featured on cards
533
, 1493,
2061
, 2080, 2226 and 2282. Eric is the primary supporter of the Walter Day Trading Card project as well as the ICON events held each year in Fairfield, Iowa. Eric has also supported such documentaries as the "Video Craze" and "The King of Arcades". Eric is part of a small group of gamers who has reached the Donkey Kong Kill Screen. He is an avid Arcade collector and restores old arcade games and offers gameplay to people in the area who want to experience the old classics. Eric's most recent contribution is the upcoming documentary "No Princess in the Castle".
Growing up were you team Sega or Nintendo and why?
Team Nintendo, for sure. Most of my friends and family were Nintendo fans, and that was the first real console game system that my parents had bought us. From what I remember from where I grew up, most people preferred Nintendo over Sega.