Other Notes:
This trading card and award were presented during the 2017 Free Play Florida Trading Card Awards Ceremonies, conducted at the DoubleTree by Hilton Hotel Orlando at SeaWorld, in Orlando, Florida, Saturday, November 18, 2017. To see the other trading cards unveiled during this ceremony -- or to see the long chronological history of the TRADING CARDS AWARDS TRADITION, go to this link: Chronological History of the Trading Card Awards Ceremonies

UNITED KINGDOM TRADING CARD CEREMONIES • 2018
This award and card will most likely be presented a second time when the UNITED KINGDOM TRADING CARD CEREMONIES are held in 2018 at some to-be-announced location and date in Great Britain. Thanks to Paul Drury and Retro Gamer Magazine for inspiring the creation of the "Legenday Gamers of the United Kingdom" card series.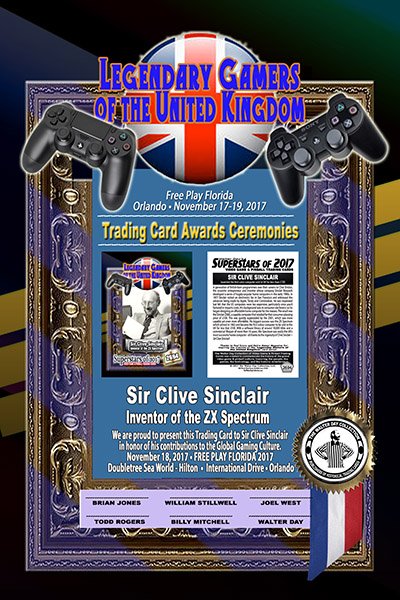 A generation of British-born programmers owe their careers to Clive Sinclair, the eccentric entrepreneur and inventor whose company Sinclair Research developed a series of hugely-popular home computers in the early 1980s. In 1977 Sinclair visited an electronics fair in San Francisco and witnessed the advances being made by Apple, Tandy and Commodore. He was impressed but felt that the US computers were too expensive, particularly once you'd factored in imports costs. His background was in consumer electronics so he began designing an affordable home computer for the masses. The result was the Sinclair ZX80, a capable computer that retailed for that consumer-pleasing price of £100. This was quickly superceded by the ZX81, which was more capable yet even more affordable. His biggest success was the ZX Spectrum which arrived in 1982 and became the first colour computer to be sold in the UK for less that £100. With a software library of around 10,000 titles and a commercial lifespan of more than 10 years, the Spectrum was easily the UK's most successful home computer - all thanks to the ingenuity of Clive Sinclair -- Sir Clive Sinclair!