Card ID:
2695 Chris and Tim Stamper
Other Notes:
This trading card and award were presented during the 2017 Free Play Florida Trading Card Awards Ceremonies, conducted at the DoubleTree by Hilton Hotel Orlando at SeaWorld, in Orlando, Florida, Saturday, November 18, 2017. To see the other trading cards unveiled during this ceremony -- or to see the long chronological history of the TRADING CARDS AWARDS TRADITION, go to this link: Chronological History of the Trading Card Awards Ceremonies
UNITED KINGDOM TRADING CARD CEREMONIES • 2018
This award and card will most likely be presented a second time when the UNITED KINGDOM TRADING CARD CEREMONIES are held in 2018 at some to-be-announced location and date in Great Britain. Thanks to Paul Drury and Retro Gamer Magazine for inspiring the creation of the "Legenday Gamers of the United Kingdom" card series.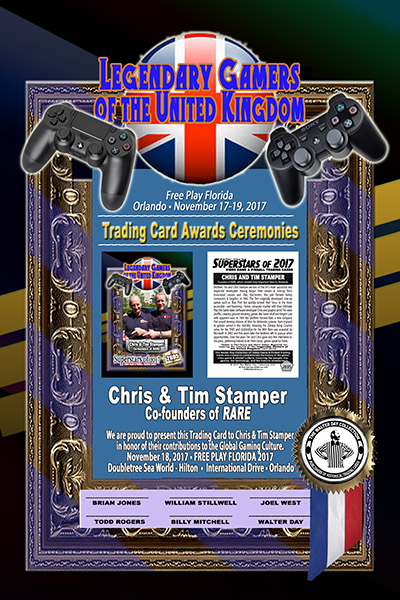 Brothers Tim and Chris Stamper are two of the UK's most successful and respected developers. Having begun their careers at coin-op firms Associated Leisure and Zilec Electronics, the pair formed Ashby Computers & Graphics in 1982. The firm originally developed coin-op games such as Blue Print but quickly turned their focus to the more accessible - and booming - home computer market with their Ultimate Play the Game label. Software developer Chris and graphic artist Tim were prolific, creating ground-breaking games like Sabre Wulf and Knight Lore with apparent ease. In 1985 the brothers formed Rare, a new company that would develop dozens of titles for Nintendo systems. Rare enjoyed its golden period in the mid-90s, releasing the Donkey Kong Country series for the SNES and GoldenEye for the N64. Rare was acquired by Microsoft in 2002 and five years later the brothers left to pursue other opportunities. Over the years Tim and Chris gave very few interviews to the press, preferring instead to let their classic games speak for them.