Other Notes:
This trading card and award were presented during the 2017 Free Play Florida Trading Card Awards Ceremonies, conducted at the DoubleTree by Hilton Hotel Orlando at SeaWorld, in Orlando, Florida, Saturday, November 18, 2017. To see the other trading cards unveiled during this ceremony -- or to see the long chronological history of the TRADING CARDS AWARDS TRADITION, go to this link: Chronological History of the Trading Card Awards Ceremonies
UNITED KINGDOM TRADING CARD CEREMONIES • 2018
This award and card will most likely be presented a second time when the UNITED KINGDOM TRADING CARD CEREMONIES are held in 2018 at some to-be-announced location and date in Great Britain. Thanks to Paul Drury and Retro Gamer Magazine for inspiring the creation of the "Legenday Gamers of the United Kingdom" card series.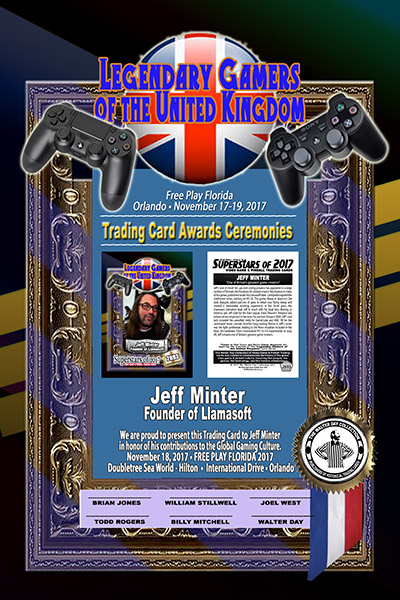 Jeff's love of shoot 'em ups and coding prowess has appeared on a large number of formats. His fondness for animals meant they feature in many of his games, published under his Llamasoft label. Centipede inspired the Gridrunner series, starting on VIC-20. The quirky Sheep In Space on C64 took Stargate, added patches of grass to refuel your flying sheep and created a memorable shooting experience. In the 16-bit years, the shareware Llamatron kept Jeff in touch with his loyal fans. Moving to America saw Jeff code for the Atari Jaguar. Dave Theurer's Tempest was enhanced and improved to become the seminal Tempest 2000. Jeff's bad luck included the cancelled Unity for GameCube and AMC '89 for the unreleased Konix console. Another long-running theme in Jeff's career was the light synthesiser, leading to the Neon visualiser included in the Xbox 360 hardware. From Commodore PET to iOS experiments to Sony VR, Jeff remains one of Britain's greatest game creators.