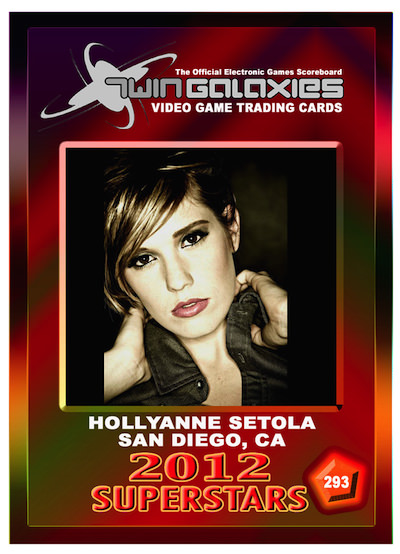 Our next Trading Card Spotlight Features Hollyanne Setola who is displayed on card number 293, from the Superstars Collection of 2012. Hollyanne is one of the most competitive female gamers out there. She has been playing games since she was 12 years old. She has placed first in numerous LAN games across the east coast. She has worked as a correspondent with GameChurch, conducting interviews at places like E3 2016 and Gamestop Expo 2015. Other places Hollyanne has worked at are Aztec Gaming and Geek Fuel. She can be featured in the upcoming documentary, "No Princess in the Castle", coming soon in 2017.

Do you prefer playing video games alone, against friends or online against the world and why?

I am SO passionate about online gaming and about playing at LAN centers. It is not only something I am passionate about, but it is one of my favorite things to do. Gaming alone is fun and all but for me what really makes the game is the community. I have had many positive (and negative) experiences with the counter strike community but I think it really is the thing that has kept me playing for all these years. I love all of the friendships that I have made, and really so many of my fans are now my friends, and many of them are like family to me. Regardless of the negativity and difficulties I endure community wide, I would go through it all time and time again for the amazing relationships I have today.