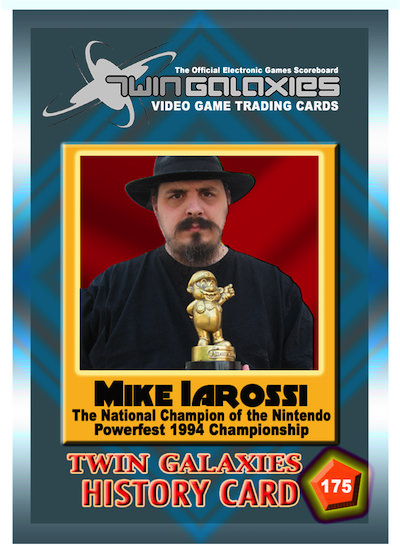 Our next Trading Card Spotlight features Mike Iarossi who currently is displayed on card number 175, from the Superstars of 2011 Collection. Mike is the winner of the Powerfest 1994 Nintendo World Championships. Not only did Mike win the statue displayed on the card cover, but he also took home a Ford Mustang. Mike is a huge gaming competitor as he streams his gaming online on Twitch. Some of his go to games are Borderlands and Dark Souls series as well as Path of Exile and Tetris. One of his goals in life is to have fun and continue gaming as long as he can.
Do you prefer PC or Console gaming and why?
PC gaming easily these days. I just prefer mouse and keyboard to a controller for most things. Obviously, some games are made for controllers and work better there but even then, I would rather play those on my PC. Part of that is ease of access. I would rather not have to switch to a console to play something. I like all my games to be in one place. I still, own a Switch and a PS4 for exclusives that I can't get on the PC but that's all I really play on them anymore and it's far less often these days than it used to be.