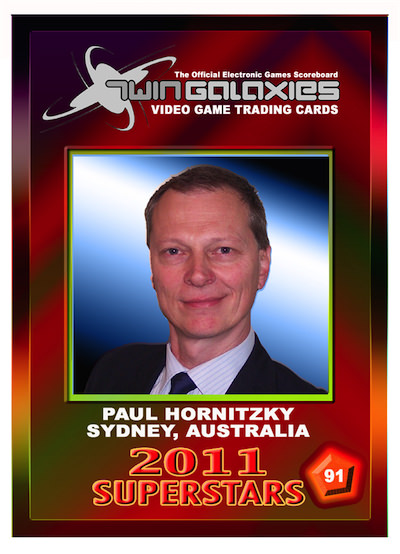 Our next Trading Card Spotlight features Paul Hornitzky who is displayed on card number 91, from the Twin Galaxies Superstars Collection of 2011. Paul grew up in the Golden Age of Video Games. When Arcades and Pinball were all the rage back in the 1970s and 1980s. Paul would go on to break world records on such games as Discs of Tron, Pengo, and Blaster. Paul is from Australia and finds time to game with his call sign of "OOO".
What springs to mind when you hear the term 'video games'?
Video games were an exciting new frontier when they were first created with its own evolving universe. I was lucky to be there when it all began, in the 70s and into the 80s, seeing and playing my first video game which was the mighty Pong. And then "I was there" for all of the hundreds of games made until today. That's 46 years of gaming experience, memories and good times. I was video gaming 9 years before Twin Galaxies was even born and the later scoreboard created. So here are my top 5 thoughts and impressions of the term "video games" and what it means to me.