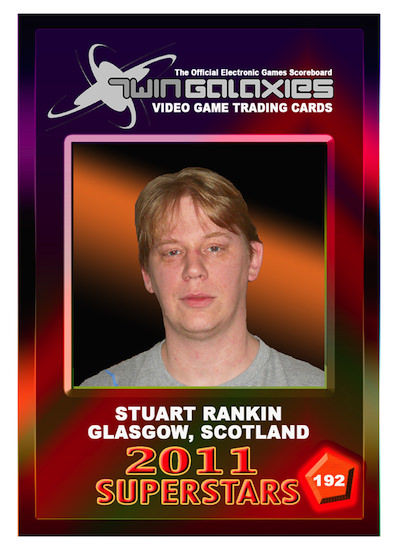 Our next Trading Card Spotlight features Stuart Rankin who is displayed on card number 192, from the Twin Galaxies Superstars Collection of 2011. From Glasgow, Scotland, Stuart is a huge Space Harrier collector. He holds many Space Harrier World Records on the Twin Galaxies scoreboard. He is involved in building a small desktop model which will run on raspberry pi. Other games Stuart has an interest in are Star Wars arcades and Tempest as well as the game NARC, which he has built a bar top cabinet with the NARC graphics on it.
Which console company is your favorite and why? Nintendo, Sony, Sega, or Microsoft?
Sega. I own all of them except the Mega CD and Nomad. Always liked the Sega stuff. Most of my favorite arcade games were from Sega so naturally I tend to gravitate towards getting home versions of them first. Oh, and Sonic.