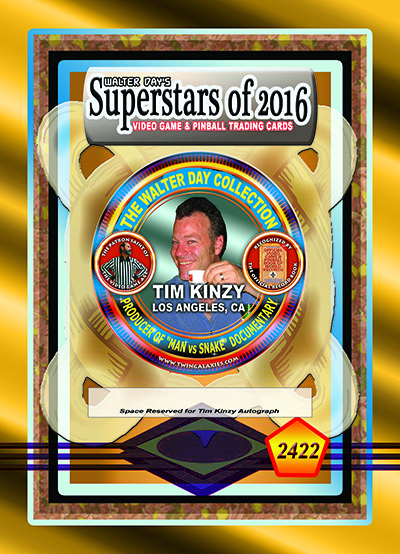 Our next Trading Card Spotlight features Tim Kinzy, who is displayed on card number 2422 from the Superstars of 2016 Collection. His documentary film trading card is featured on card number 2495. Tim is one half of the team that directed, produced and edited the documentary "Man vs. Snake". A story of the arcade game Nibbler and the fight to set the world record. This successful documentary was featured in many film festivals over the past couple years and can also be seen on Netflix. Tim has been a television editor on such shows as Battlestar Galactica, Eureka, Falling Skies, and Beyond.
What games today do you play and what are your favorite genres of games?

I don't have much time these days between 12+ hour work days and raising 2 babies, but I try to get a good game of Galaga or Dig Dug in at home in when I can carve out a little bit of time. My favorite genre of games tends to be the one-person player games from the classic video game era. You know, the basics, Donkey Kong, Pac Man, and of course Nibbler.