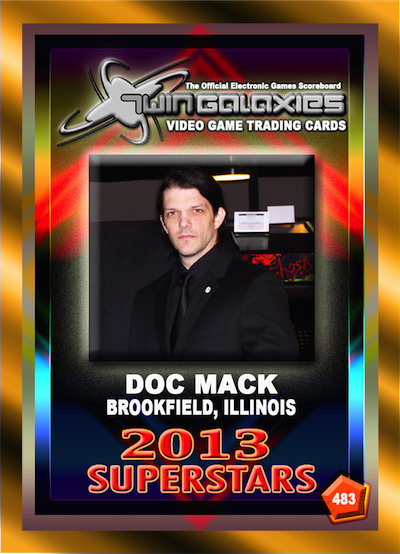 Our next Trading Card Spotlight features Doc Mack who currently is displayed on card number 483, from the Superstars of 2013 Collection. Doc is the owner of an arcade in Brookfield, IL called The Galloping Ghost Arcade. This is not your ordinary arcade of today; Doc has around 500 arcade machines up and running for all to play. It is the biggest arcade to date in the United States. You can play old classics such as Galaga and Pac-Man or play some games of today such as The Grid, or Mortal Kombat X. Doc is also the owner of Galloping Ghosts Productions which is currently working on the arcade game Dark Presence. His company designs and builds arcade games for other arcades in his area. Doc is a huge supporter of local and out of state video game events brining his personal machines for people to enjoy and try to break records on.

Do you remember your first video game / arcade you played and what do you remember about it?

I remember the first day my Dad brought home Pong and playing it for hours and hours. In the arcades, Asteroids was the first game I ever played. I remember being amazed to be out of the house playing and able to play video games.