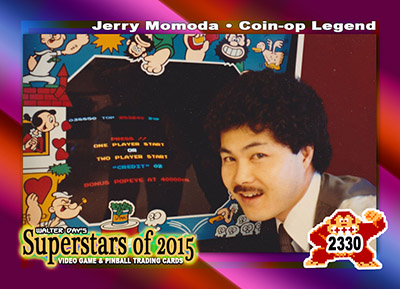 Our next Trading Card Spotlight features Jerry Momoda, who is displayed on
card number 2330
, from the Superstars of 2015 Collection. Jerry was the Nintendo of America's original market research analyst and game master back in the early 1980's. Throughout his career, Jerry has also worked for other game companies, including Atari, Sega and Namco. Some of Jerry's favorite projects he worked on were Punch-out, Mario Bros. and Tekken. Jerry was one of the pioneers to help create the Tekken franchise which after twenty years remains a cornerstone of Namco's lineup. It is the largest selling fighting game franchise in history. He is passionate how many arcade video game design principles should be considered in today's mobile games. In his
blog
he writes for both game fans and game developers.
What are your opinions about today's generation of video games? How do you compare them to older, classic games?
Today's video games are massive in size compared to classic games. I miss the elegant simplicity of classic games. Games today take so long to complete, or have no ending, that the average person plays fewer games annually. This runs counterproductive to what's needed for the overall health of the industry.