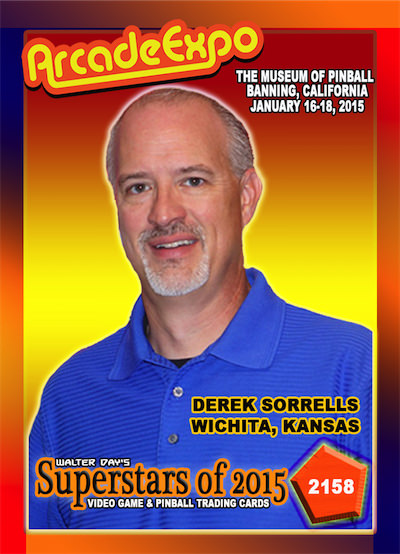 Our next Trading Card Spotlight features Derek Sorrells, who is displayed on card number 832, from the Superstars of 2014 Collection. Derek is also featured on cards 1280,
2158
and 2254. Derek is an old school gamer who loves arcade machines. He grew up in the prime of the arcade era and played as many arcade machines possible. His love grew until the crash of the arcades in 1983. He relived his childhood in 2006 and began restoring and collecting arcade machines from the mid-80s. His collection of about 50 machines can be seen when Derek run a local tournament in his Arcade. Derek offers his expertise to other Arcade collectors and helps them with restoring and maintaining arcade machines. Derek is also one of the people responsible for the creation of the Walter Day Collection Web site. Any suggestions or ideas for the website can be sent to Derek at
This email address is being protected from spambots. You need JavaScript enabled to view it.
.
What are your opinions about today's generation of video games?
Today's games are all about graphics and drawing the game play out. In the 80s, arcade games were designed to take your quarter and generally let you play for a mere 90 seconds. The games of today have downloadable content and multiplayer options that allow you to play for hours. Only the best of the best played for hours in our generation.