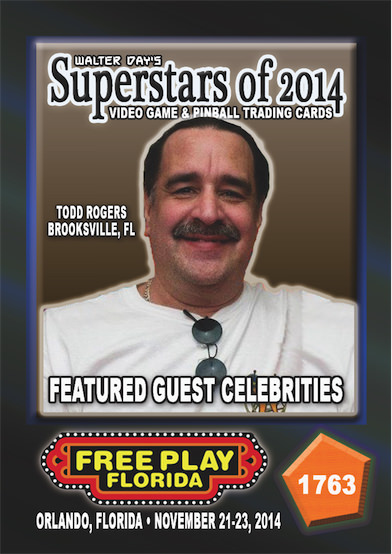 Our next Trading Card Spotlight features Todd Rogers, who is displayed on card number 100, from the Superstars of 2011. Also Todd can be found on card numbers 356, 397, 521, 551, 660, 1763, 1869, 2049, 2135 and 2516. The Video Games first "Pro Gamer", Todd has represented over 40 major software companies in his career. Todd was inducted into the International Video Game Hall of Fame in 2010. You can see Todd in various documentaries such as Chasing Ghosts, The King of Arcades and The King of Kong. Todd holds over 300 world records on such games as Gorf, Dragster and Journey Escape.

Do you remember your first video game / arcade you played and what do you remember about it?

The first memory that I have of a video game would have to be Pong (1972), and one of the first arcade game that I played would be Datsun 280 Zzzap (1976) what I remember about Pong was the idea of a game being played on your home TV and what an amazing experience that was as far as Datsun 280 Zzzap was the whole competitive side of that game as there were lines of people waiting to play to see who was the best.