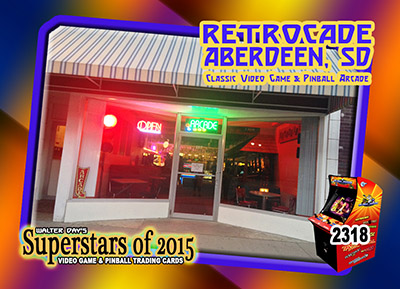 Our next Trading Card Spotlight features Scott Mosey and Roxy Hinze, owners of Retrocade, displayed on card number 2318, from the Superstars of 2015. Located in Aberdeen, South Dakota, Retrocade was opened by Scott and Roxy on December 5th, 2013. Scott has been repairing coin-op games since the he was very young and Roxy adds her creative décor to the business. The arcade features over 40 retro classic arcade games as well as a few pinball machines. Classic tunes are played with the vintage jukebox to make this throwback arcade a reality. It is people like Scott and Roxy that are passionate with bringing the old 1982 arcade era back to the current time and have the newer generation enjoy gaming with the original generation.

If you can design your own game, what would it be about and who would be the main character?

The game would be an epic journey through ancient eras, discovering the technologies of the past to unlock the secrets that will shape the future with Walter Day as your travel guide.