Fairfield Trading Card Spotlight - Hal Goldstein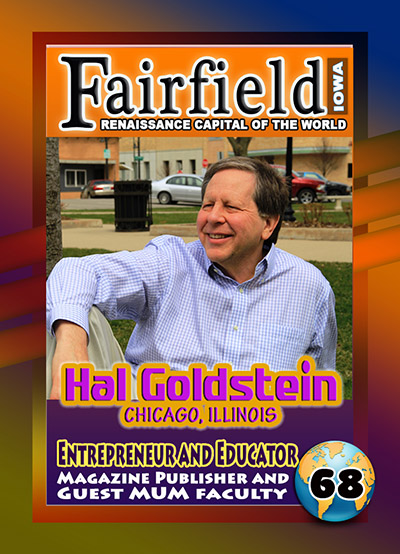 Our next Fairfield Trading Card Spotlight features Hal Goldstein, who is displayed on
card number 68
, from the Fairfield Collection. These cards commemorate Fairfield, Iowa's unique distinction as the "Renaissance Capital of the World." With a Master's Degree in Mind, Heart and Spirit, Hal has worked in many different roles to make people better in life, whether it was in computer science, social work, or teaching Transcendental Meditation. He continues writing about electronics and computing for the magazine he founded. He currently is writing, "The Meditating Entrepreneurs," how T.M. meditators [such as Walter Day] moved to Fairfield for world peace and enlightenment and ended up creating extraordinary businesses.
How has computers/science today changed from when you were younger? What do you like or dislike about the changes?
The underlying passion for creating new technology that serves humanity remains the same. Now there is much more opportunity as exponential development of technologies converge and the human race is so connected. Anyone persistent, passionate with a great idea can raise money and connect with other who have the skills to make the idea a reality.
Where did you grow up and what is your history of Fairfield, Iowa?

I grew up in the Chicago area. Inspired by the prospect of personal growth and contributing to world peace, I spent time at Maharishi International University (now Maharishi University of Management) in 1974 and 1975 and moved permanently to Fairfield in 1984.

What are your favorite electronic devices past and present?

My favorite older device was first manufactured in 1992: the HP 200LX Palmtop PC. It had a great HP calculator, Lotus 1-2-3 spreadsheet, a powerful database, and much more built in. It ran a desktop PC version of MSDOS (the precursor to Windows), which meant that most any program that ran on the MSDOS operating system would run on the Palmtop. It was a clamshell device, ran on double AA batteries, had a useable keyboard with numeric keypad. PDF's of our Portable and Palmtop magazines can be found at http://www.hpmuseum.net/exhibit.php?content=Portable%20Paper. As of 2017 we still buy, sell, and repair these HP Palmtops, www.palmtoppaper.com!
Today I am a fan of the iPad and iPhone.

What comes to mind when you hear the word 'Fairfield'?

Appreciation for Maharishi's vision of creating a community of meditators committed to inner and outer development.

Did you ever think when you were younger you would be on a trading card?

No. I loved trading baseball cards when young, and yes, although she denied it, my mother threw them out.

When did you first meet Walter day and where was it at?

Maharishi International University in 1974 when we were both Teaching Assistants.

If you did not become an entrepreneur, what would you be doing?

What I do now, teach and write.

Are you still involved with writing today, and what role do you play?

I write the back-page column for iPhone Life magazine, which I founded, https://www.iphonelife.com/. I am also writing The Meditation Entrepreneurs, http://meditatingentrepreneur.com/.

What are your favorite type of books and why?

I like a wide variety of fiction and non-fiction, but gravitate towards autobiography and books that make me think in new and different ways.

What are your favorite hobbies today?

What I mostly do – teach and write.

How has your involvement in the TM field been important to you?

It has given me an inner north star, a foundation, a confidence, and a deep intuition for action that has made my journey in life successful and fulfilling.

Did you play Video games growing up and what were some of your favorites?

I was born in 1948 and we didn't have video games. I did play a lot of Monopoly, Scrabble, Chess, Go, and Risk board games.

Do you believe some Video Games are too violent and lead to violence in America today?

Could be. But also, they could lead to less violence with its avenues to express those negative emotions. Don't know.

What does it take to be a published author today?

I'll find out soon. Like anything else, I imagine it will take passion, persistence, flexibility, and good luck.

Where do you see technology going in the next 20 years?

Incomprehensible changes as various exponential technologies (AI, sensors, biotech, robotics, etc) converge and nine million people interconnect.