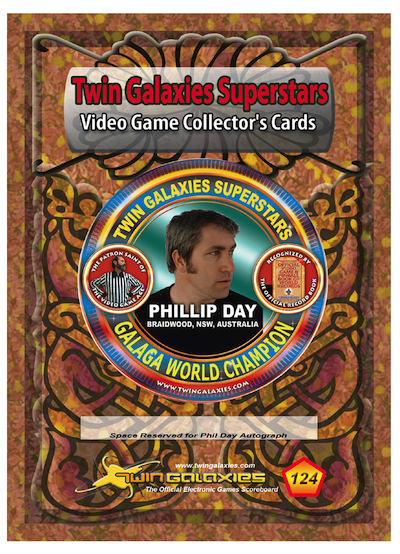 Our next Trading Card Spotlight features Phil Day who is displayed on
card number 124
, from the Superstars of 2011 Collection. Phil is one of the best Galaga players in the world. From the land down under, Phil resides from Australia and is an avid gamer, author and documentarian. In 2009, Phil captured the Galaga world title in the "5-Man only" Tournament settings. Phil is in the process of creating a documentary called "Bonus Life: Extended Play" which is still in production. Phil has also written a graphic novel called "The Short lived life of a Galaga Pilot" which has not yet been released to the public. Phil is currently has the 2
nd
highest recorded score in Galaga with 3,275,720.
Do you learn anything from playing video games?
Some people learn how to play the game better. While others discover something about themselves. After getting the Galaga WR I had no desire to try for another WR. I feel it is best to do these things once. Whereas many other classic arcade champs have a want to regain their WRs – I think this is a mistake. Rarely is anything as much fun the second time.