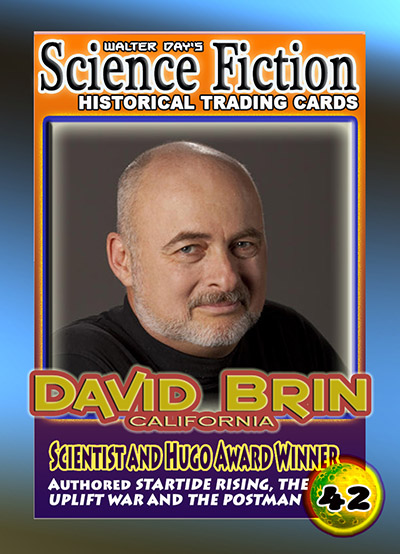 Our next Science Fiction Trading Card Spotlight features David Brin, who is displayed on
card number 42
, from the Science Fiction Collection. David is a bestselling author as well as an inventor and scientist. He was won multiple Hugo and Nebula awards. One of his books, "The Postman" became a film starring and directed by Kevin Costner. Other Brin books dive into such topics as World War II, Human Cloning, and altered dolphins flying spaceships. David appears often on shows like Life After People and Through the Wormhole. He offers his knowledge and guidance as well in workshops and advice columns. You can get more information about David and his work on his website.
http://www.davidbrin.com
What authors do you admire today?
Nonfiction authors like Stephen Pinker and Rebecca Solnit show us that humanity may be a bit better and more hopeful than the cynics would have us believe. Novelists like Vernor Vinge, Nancy Kress; suggest that the future may be simultaneously weird, yet offering windows to human understanding.