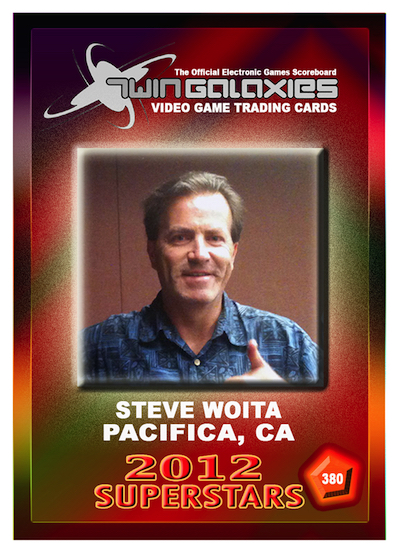 Our next Trading Card Spotlight features Steve Woita, who is displayed on card number 380, from the Superstars of 2012. Steve first came on the scene while working on the Apple II computer. He has also worked on the boards of the Apple III, Apple IIe and the Joyport for Sirius Software. Steve has also been a part of the designing of many games for the PC, Atari 2600, NES and Sega Genesis to name a few. A complete list of games Steve has worked on can be found on his website at https://stevewoita.wordpress.com. Steve is also on the Board of Advisors for the Video Game History Museum. Steve is still today overseeing new games that are created and has his hands in the new technology.

Do you remember when you created your first video game what do you remember about the experience?

I remember when I designed and programmed my first published game that was actually available on a store shelf, the game was called TAZ for the Atari 2600 (VCS). One experience I remember about this game was the first time I saw it in a local Gemco department store. I clearly remember just focusing on my game as it was just hanging off the game rack on a steel peg with the rest of the entire Atari 2600 library of games that I had bought years ago before making TAZ and now my game is up there with the rest of them and it truly was a time that's etched in my brain as I remember all of the work that it took to get this crazy game to the store shelf; it was completely worth it and that this is such a cool moment.