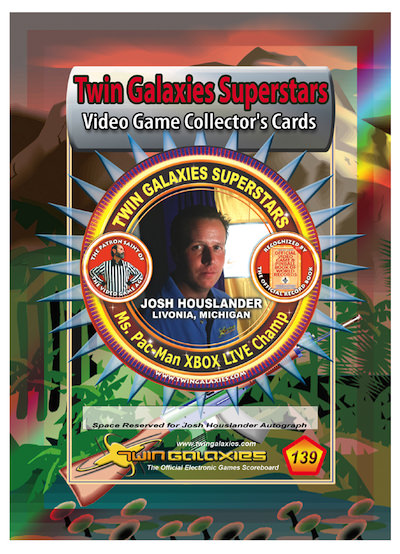 This latest Trading Card "Rewind" was published on December 13th, 2015. It is a very comprehensive interview that Josh was nice enough to take time out for. I hope you enjoy.
Our next Trading Card Spotlight features Josh Houslander who is displayed on card number 139, from the Twin Galaxies Superstars Collection of 2011. Josh was one of the creators of a podcast for Twin Galaxies website that discussed all things Twin Galaxies as well as world records established by the community. The new podcast which Josh is involved in can be heard primarily on themajors.net. Josh also was involved in an exclusive interview with Walter Day that can be purchased on DVD. Josh has also personally interviewed top talent in the video game industry through the years and was a key part of the Video Game Hall of Fame in Ottumwa, IA in 2010. Some of Josh's Video Game Records include Bubble Bobble Plus on the Wii and Super Mario Bros. 3 for the NES.

Did I ever think when I was younger that I would be on a video game trading card?

Hmm, yes I probably did. My dream as a kid was to become an absolute video game master. I wanted to test my skills against all comers, I wanted to work in the video game field as a game tester, write up reports on the latest and greatest new games, and be the ultimate video game champion. At a young age I thought up ways to have potential tournaments, championships, and competitions to find out who the true "King of Nintendo" was (that is what I would have called it as a child). The only problem is, that if one were to go back in time and tell eleven year old Josh that one day he would be on a video game trading card; but that he would be remembered much more for covering events, podcasting, and his journalistic contributions to the subculture rather than his own world records or prowess as a master of all video games. That may just be one heartbroken little dork.