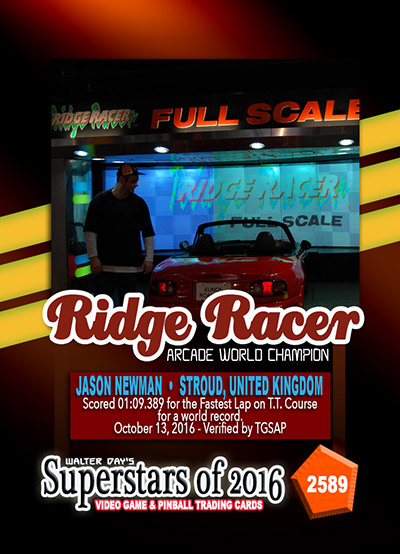 Our next Trading Card Spotlight features Jason Newman, who is displayed on
card number 2589
, from the Superstars of 2016 Collection. Jason is a multiple Ridge Racer world record holder on multiple platforms including the arcade version. His love for the game keeps him busy and going for more records each day. With over 100 records on the game he is without doubt the best Ridge Racer gamer in the world. Jason also hold some records on the game Rave Racer for the Arcade.
Did you ever think when you were younger you would be on a Video Game Trading card?
Not at all no. Although I did feel a pretty solid connection with the Ridge Racer series from a young age so I had a feeling it was going to go somewhere. Something about the game just ticked all the boxes for me and I've been playing ever since. But no, I never really thought I would take it as far as I have and end up on a Trading Card. It's an honor have been chosen by Walter and to be alongside the many great gamers featured on these cards.