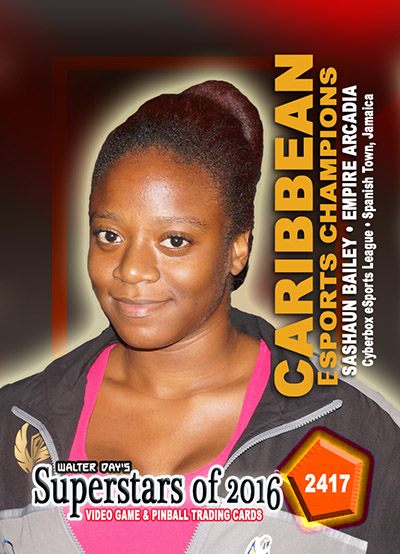 Our next Trading Card Spotlight features Sashaun "Empr3ss Nile" Bailey, who is displayed on card number 2417, from the Superstars of 2016. Originally competing at Cyberbox tournaments as a competitor for Empire Arcadia in 2015, Empr3ss always knew she was a gaming competitor. When Cyberbox closed, she looked for a new way to contribute to eSports as a competitor. Nile was one of the top eSports competitors for Just Dance in the country. She has won the National competition at Cyberbox for Just Dance in Jamaica. She also is a part of the Tetris Team trying to win a title for the Empire. Other games Enpr3ss like to compete in are League of Legends and Hearthstone: Heroes of Warcraft.
Who is your favorite video game character and what makes that character special?

It would have to be a tie between PAC-MAN and Lara Croft. I like PAC-MAN because he's simple and you can power him up easy with the energizer. I like when the ghost think they're about to kill you and you get the power up and they start running. I use to laugh all the time as a kid when I saw that, I still do sometimes. I like Lara Croft because she's a bad-ass and to some degree she's independent. She doesn't work for anybody. She has guns can kill bears, wolves, people. She's a super version of Indiana Jones.