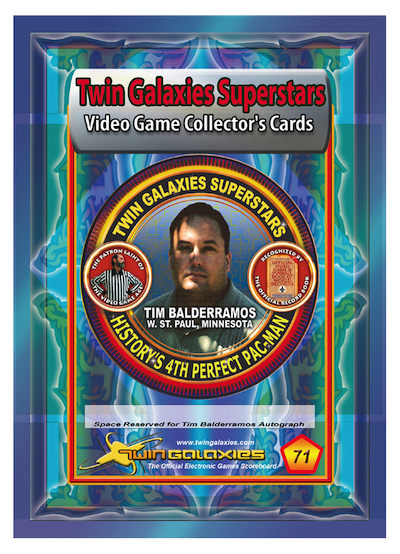 Our next Trading Card Spotlight features Tim Balderramos, who is displayed on card number 71, from the Superstars of 2011. Tim is one of the greatest Pac-Man players you will ever see play. He is one of 7 people who have reached the Perfect Pac-Man score of 3,333,360. Tim was recently inducted into the International Video Game Hall of Fame in Ottumwa, Iowa. He has written a book about his Pac-Man career called "The Perfect Game: Confessions of a Pac-Man Junkie". Tim came out of retirement to compete in the Xbox 360 Pac-Man World Championship in 2007 – qualifying for a trip to the grand finals in New York City and taking 5th Place overall . Tim also took part in the Pac-Man Twin Galaxies Kill Screen Challenge in North Hollywood, California in 2015. Tim also holds other records with such games as Commando and Congo Bongo.

How does video game music influence games past and present?

Music in a game can be compared to music in a movie. During critical times you are immersed in a particular score that makes you feel a certain way. This was as true with Pac-Man as it is with Call of Duty. The best music you may not particularly remember, but you do remember how it made you feel.