Card ID:
2707 The Retro World Series
Other Notes:
To honor Hal Hawkins (and his Retro World Series) for his important contributions to the gaming culture, this trading card and award were presented at the Classic Game Fest Trading Card Awards Ceremonies, July 29, 2017, in Austin, Texas.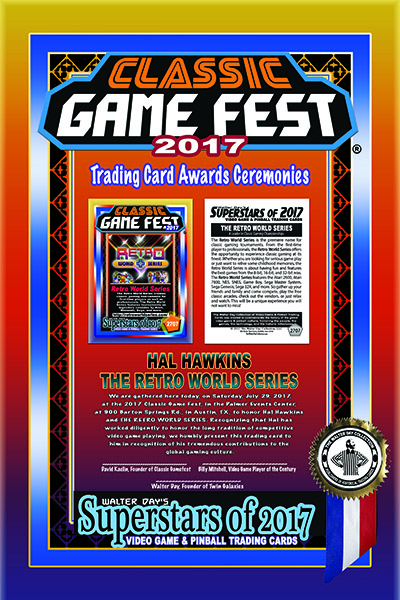 The Retro World Series is the premiere name for classic gaming tournaments. From the first-time player to professionals, the Retro World Series offers the opportunity to experience classic gaming at its finest. Whether you are looking for serious game play or just want to relive some childhood memories, the Retro World Series is about having fun and features the best games from the 8-bit, 16-bit, and 32-bit eras. The Retro World Series features the Atari 2600, Atari 7800, NES, SNES, Game Boy, Sega Master System, Sega Genesis, Sega 32X, and more. So gather up your friends and family and come compete, play the free classic arcades, check out the vendors, or just relax and watch. This will be a unique experience you will not want to miss!