Other Notes:
This trading card and award were presented during the 2017 Free Play Florida Trading Card Awards Ceremonies, conducted at the DoubleTree by Hilton Hotel Orlando at SeaWorld, in Orlando, Florida, Saturday, November 18, 2017. To see the other trading cards unveiled during this ceremony -- or to see the long chronological history of the TRADING CARDS AWARDS TRADITION, go to this link: Chronological History of the Trading Card Awards Ceremonies
UNITED KINGDOM TRADING CARD CEREMONIES • 2018
This award and card will most likely be presented a second time when the UNITED KINGDOM TRADING CARD CEREMONIES are held in 2018 at some to-be-announced location and date in Great Britain. Thanks to Paul Drury and Retro Gamer Magazine for inspiring the creation of the "Legenday Gamers of the United Kingdom" card series.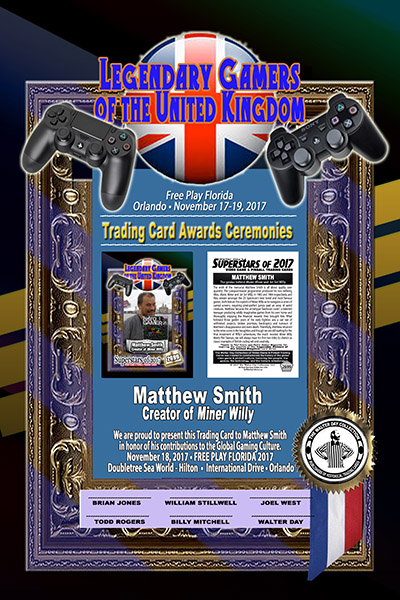 The work of the mercurial Matthew Smith is all about quality over quantity. The Liverpool-based programmer produced his two defining titles, Manic Miner and Jet Set Willy, in 1983 and 1984 respectively and they remain amongst the ZX Spectrum's best loved and most famous games. Both feature the exploits of Miner Willy as he navigates a series of surreal screens, requiring pixel-perfect jumps past an array of weird creatures. Matthew became the archetypal 'bedroom coder', a talented teenager producing wildly imaginative games from his own home and thoroughly enjoying the financial rewards they brought him. What followed those golden years of the early Eighties was a sad tale of unfinished projects, broken promises, bankruptcy and rumours of Matthew's disappearance and even death. Thankfully, Matthew returned to the retro scene in the Noughties and though we are still waiting for the final instalment of Willy's adventures, the much mooted Miner Willy Meets The Taxman, we will always have his first two titles to cherish as classic examples of British coding wit and creativity.