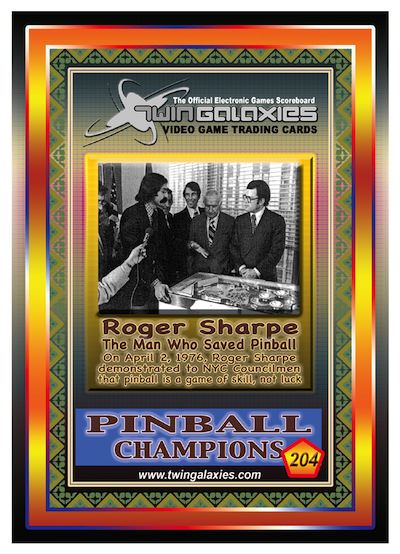 Our next Trading Card Spotlight features Roger Sharpe, who is displayed on card number 204, from the Superstars of 2012 Collection. Roger is also featured on trading cards 841 and 1709. Roger's impact on the pinball industry dates all the way back to the 1970's and is still going strong today. Roger was responsible for securing the rights to hundreds of licensed themes including some of the top pinball games in history such as The Addams Family, Star Trek and Twilight Zone. Roger was also the Managing Editor of Gentlemen's Quarterly and the Editor of Video Games Magazine as well as feature writer for numerous publications and the author/contributor to twelve books, including PINBALL! He was co-founder of the Professional and Amateur Pinball Association (PAPA) and currently the Co-Director of the International Flipper Pinball Association (IFPA). Roger's children Josh and Zach also play a huge part in the family history as President and Vice-President of the IFPA organization.
Are you fan of the new digital pinball machines and what makes them better or worse than the standard machines?
I AM A FAN OF DIGITAL PINBALL MACHINES IF WE ARE COMPARING THEM TO STANDARD 'MECHANICAL' MACHINES. THEY DO OFFER A COMPLETELY DIFFERENT CHALLENGE AND EXPERIENCE. HOWEVER, FOR THE MOST PART, WHAT THEY DO LACK IS THE LEVEL OF PHYSICAL INTERACTIVITY ONE EXPERIENCES FROM PLAYING A STANDARD PINBALL MACHINE. BUT FOR MANY, THE GAMES ARE ENJOYABLE AND THE MORE PEOPLE PLAYING ANY TYPE OF PINBALL IS GREAT FOR PINBALL.