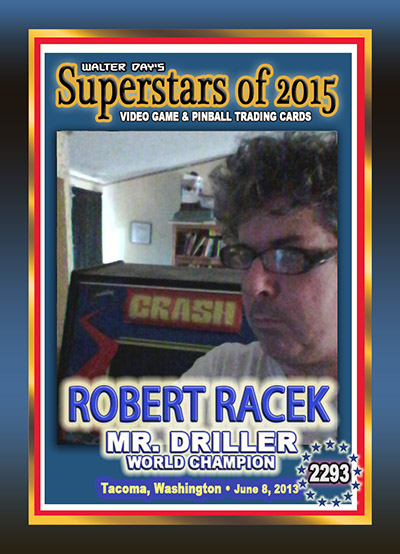 Our next Trading Card Spotlight Features Robert Racek/Sid Seattle who currently is displayed on card number 2293, from the Superstars of 2015 Collection. Robert also represents himself and "Arcade Culture" on cards 2735, 2849, and 2850 and a couple others with the Sid Seattle Events Series. You can find Robert in the Guinness Book of World Records – Gamers Edition 2012. He has a few record-setting high scores on such games as Mr. Driller, Prop Cycle, Qix,Gyruss, Daioh, Ice Climbers, gaplus/g alaga 3, Avalanche, Mr. Driller G and Pang 3. His Alternate alias is "Sid Seattle". Robert worked for Irem/Fabtek, Culture Brain and Nintendo and Microsoft in the late1980's/ early 1990's. Robert had got ten million at Bubble Bobble live at an arcade in front of witnesses back in 1990 without using any of the cheating "joystick codes". Robert's next event idea is PTTP... (Payment to the Players) where 100% of the coinbox of an event is given to the player with the highest score at the end of the show on the "extreme challenge machine". such as at Grinkers Grand Palace mid-October in Eagle Idaho. (DKJ/Remixed 2-minute ROM) Sid hopes to see you all there. Sid Seattle is also the Founder of "Scorechasers" (a group of Jerseyed players that are about gaming and fun as well as" The Future of Retro Arcade Culture".. ).
"Sid Seattle Events is the Future of Arcade Competitions" -Walter Day
What games today do you play and what are your favorite genres of games?
I play classic-style arcade games to this day. I like everything by Namco and the newest Konami released 8 player bomber girl looks fantastic, (I hope that somewhere in the US will take a chance on a non-music-based game by Konami.)