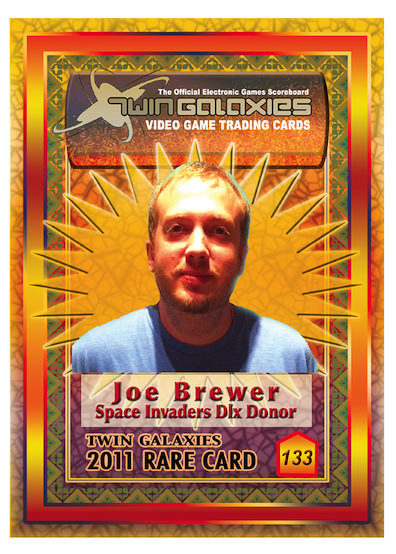 Our next Trading Card Spotlight features Joe Brewer, who is displayed on card number 133, from the Superstars of 2011 Collection. Owner of his own arcade, Brewer's Arcade, Joe has become an arcade collector and preservationist. Joe even donated one of his games to the International Video Game Hall of Fame in 2010. After Joe's generation donation, more followed and the IVGHOF received many arcade games that year as donation. Joe can restore and preserve old 1980 arcade games to keep the fever alive. Joe's arcade is located in his basement of his home and a few times a year hosts an open house to the public to play the arcade games and have a good time.
Do you believe some Video Games are too violent and lead to violence in America today?
I believe parents should use common sense with what games their children play. If you don't know that allowing your 8-year-old to play Call of Duty may be have a negative influence, then the parent doesn't have common sense and the child doesn't have a chance in life anyway. If you allow your child to watch violent movies and realistic violent video games that depict real life situations I think it easily can numb that child mentally and definitely has the potential to negatively affect their perception of the real world.