Science Fiction Trading Card Spotlight - Jason Sanford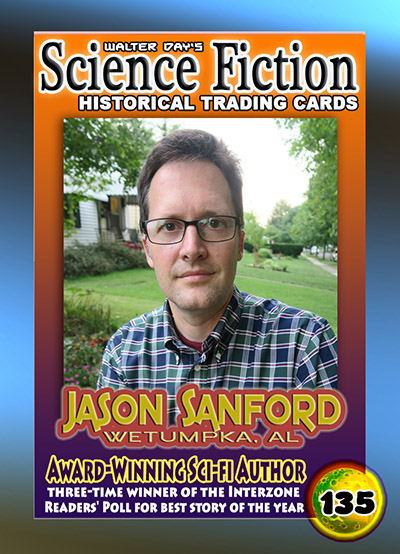 Our next Trading Card Spotlight features Jason Sanford, who is displayed on card number 135 from the Science Fiction Collection. As a Science Fiction writer, Jason is a two-time finalist for the Nebula Award and has received a Minnesota States Art Board Fellowship. Jason has previously worked as an archaeologist and is a former Peace Corps Volunteer. A collection of his short stories were published in 2011. Jason co-found the literary journey storySouth, where he ran the Million Writers Award for best online fiction. He also writes a column for Czech Science Fiction Magazine.
How has writing today changed from when you were younger? What do you like or dislike about the changes?
I think the writing world has opened up massively since I was younger. Now there are large numbers of ways for a writer to reach their audience, from traditional publishing to self-publishing to apps and podcasts and much more. I think that has helped opened writing to many new audiences and participants and is a great thing.
Did you ever think when you were younger you would be on a trading card?
Had no idea. When I was young, I wanted to be a science fiction writer but until I saw Walter Day's cards, I didn't know there was such a thing as SF trading cards.
When did you first meet Walter Day and where was it at?
I first met Walter at the Nebula Awards conference. I was really impressed with the cards he'd already produced. I think these cards are a great way to raise interest in both the SF/F genre and authors.
How early in your life did you know you would be a writer?
I read science fiction and fantasy from a very young age, and at nearly the same time knew I also wanted to write SF/F stories. In high school I won the fiction writing contest for the entire school with a SF story, which evidently caused some minor controversy since my English teacher told me what I wrote wasn't true "fiction." I look back at that now and laugh.
If you did not become a writer, what would you be doing?
I originally studied archaeology, so if I wasn't writing I'd likely have continued working as an archaeologist.
What does it take to be a professional writer today?
Persistence. There's this myth out there that to succeed as a writer you must be a tormented genius, but the truth is that the writers who succeed are usually the writers who don't give up. Writers who believe in what they're doing and keep plugging away at their dream no matter the pains and rejections they encounter are quite often the writers who succeed.
What do you think about electronic books that you can download versus the actual physical hard copy?
I read and buy and both physical books and e-books. If I simply want to read a story, I'll often buy an e-book. If I want to keep a story for the rest of my life, I frequently buy the physical book.
If you could own one arcade game or pinball game, what would it be and why?
The 1981 arcade game Galaga. I love the simplicity and complexity of this game, with the aliens continually trying to overwhelm the defending spaceship. I played the game all the time at a youth center near my grandmother's house when I was younger, and it still brings back great memories.
What do you see yourself doing in the next 10 years?
I plan to still be writing fiction. I love what I write, and I want to continue writing what I love.