Fairfield Trading Card Spotlight "REWIND" Jim Karpen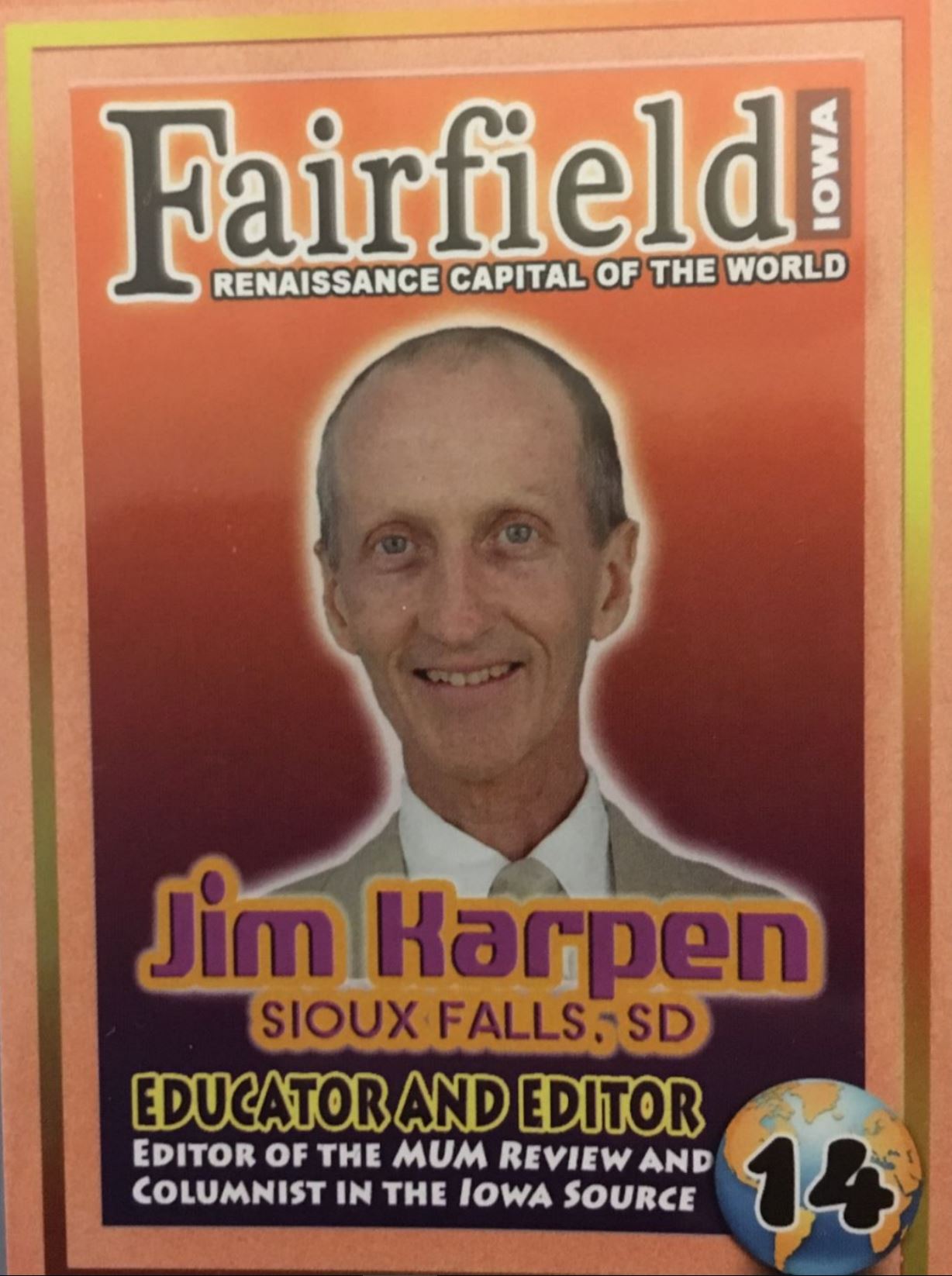 This Interview was done November 3rd, 2017 and I talked with IPhone Life Magazine writer, Jim Karpen. This is a series of Fairfield Cards that have been produced to commemorate Fairfield, Iowa's unique distinction as the "Renaissance Capital of the World.".
Our next Fairfield Trading Card Spotlight features Jim Karpen, who is displayed on card number 14, from the Fairfield Collection. These cards commemorate Fairfield, Iowa's unique distinction as the "Renaissance Capital of the World." Jim has been involved in TM (Transcendental Meditation) since the early 1970s. Starting in the year 2000, Jim has worked full time as a writer for Maharishi University of Management as well as for various publications, with a focus on technology. Most recently he wrote for iPhone Life Magazine. Jim also enjoys tennis.
How is your involvement in the TM industry been important to you?
It has transformed my life. I had never been very successful at anything, but that all changed once I began TM. I went back to school and did well, ending up with a PhD. And now, after 40 years, I'm enjoying experiences I could never have imagined.
Where did you grow up and when did you move to Iowa?
Grew up in South Dakota. Came to Fairfield in 1974.
Growing up, what did you see yourself doing as an adult?
For a number of years, I dreamed of being a wildlife biologist.
What comes to mind when you hear the word 'Fairfield'?
Home. Good food. Interesting shops. Safety. Pleasant community. Friendly people.
Are you still involved with TM, and what role do you play?
Yes. I work as a writer for Maharishi University of Management.
When did you start doing Transcendental meditation?
June 22, 1974
What does it take to be an up and coming author in today's society?
One needs to be a reader and to pay attention to the conventions of the genre and publications that one wishes to write for.
How does TM and Writing fit together, and can it be important to both?
My writing has gotten very automatic. It's as if I'm not even thinking – everything just flows out. TM has enabled my writing to be effortless.
When did you first meet Walter day and where was it at?
The first occasion I can remember is when he came by and talked to a mutual friend when we were eating at Thai Deli.
If you could describe Walter Day in one word, what would that word be and why?
Eccentric. Who else would have the world's largest collection of business cards, make a name in the videogame industry, create trading cards, make a business out of selling the yearbook photos of famous celebrities, selling vintage newspapers, etc.? Perhaps the most creative person I've met.
Did you ever think when you were younger you would be on a trading card?
The possibility never occurred to me.
What authors do you admire today and who did you look up to as a child?
Today I greatly admire Yuval Noah Harari. When I was young I was deeply affected by the writing of William Saroyan.
What do you see yourself doing in the next 10 years?
Retiring.